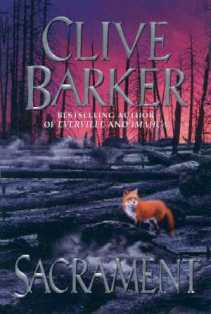 First published back in July of 1996, Clive Barker's dark fantasy novel 'Sacrament' has thus far proven to be possibly his least well-received novel, both with sales and with the general response from his readers.

DLS Synopsis:
The irony of the situation was the last thing to go through his mind when the world famous wildlife photographer, Will Rabjohns, a man who specialises in capturing photos of wildlife that are approaching extinction, is savagely attacked by a polar bear, leaving him terribly wounded and plunging him into a lengthy coma.

Whilst unconscious, Rabjohns dreams of his childhood that was spent in the remote Yorkshire village of Burnt Yarley. He remembers back when he first stumbled across the strange couple - Jacob Steep and Rosa McGee - burning moths on a candle flame. A friendship built out of intrigue starts to form between the young Will Rabjohns and this odd couple. And gradually, Rabjohns learned of the couples' near-immortality as well as Steep's personal mission to cleanse the world of all the last species', so that God's almighty voice may finally be heard.
Upon awakening from months spent within his coma, Rabjohns sets out on a mission to locate Steep and his seductive companion, hoping to end the madness of his sickening crusade to eradicate endangered species from the world.

Will Rabjohns has now found a new calling in life. He must act as a saviour and protector for the animals that are on the very brink of extinction. He will travel back to England where he will confront his worst fears, and in doing so, discover who he really is. The path he must take is a bitter one of self-voyage and the loss of those he loves. But ultimately it is a path he must follow. There is too much at stake should he fail...
DLS Review:
In a nutshell 'Sacrament' is an emotionally powerful and heart-felt tale that beautifully projects itself onto the reader. Furthermore, the dark fantasy elements are imaginative and powerfully vivid, casting the reader outside of their normal comfort zone with the ease of a truly great storyteller.
The mishmash of storylines, characters, plots and locations are as elaborate and varied as they are exciting and intriguing. Flittering between the busy bustle of the gay bars in San Francisco and then to the isolated and subdued Yorkshire Dales; Barker knows how to throw the storyline utterly out of pace with itself to create an intriguingly contradictive atmosphere that encapsulates the magical mystery of the plotline.
Characterisation (like with all of Barker's other work) is absolutely second to none. The warmth, depth and vividness of each one of the characters is quite frankly superb. Raw emotion, which was no doubt at the forefront of the author's mind as he wrote the tale, is brutally and unashamedly exposed. Barker's real life lover – David Armstrong - is lovingly transposed into the tale as the principal protagonist. And his love and passion for this man is evident all over the book.
Ultimately that's what really makes 'Sacrament' such an impactful tale. Its driving force is the heart-on-the-sleeve emotion of the author that accompanies every aspect and stage of the tale. This is not a fast-paced action-on-every-page beast of a book. It does however have its wildly exotic (and erotic) scenes that fire up the imagination, casting the reader into a world where not everything is as it seems. It also plays at a more gradual pace, where the characters themselves are the focus of our attention.
The tale does flirt with some pretty darn grandiose ideas of a higher power, life, love, mortality and ultimate purpose. Yes they're heavy topics to explore, but Barker does it in his own offbeat way. We're exposed to the questions, the sharp new ideas and tempting reasons. There's no heavy-handed approach adopted to these daunting subjects. What we have is the author just opening up further channels of thought for the reader to ponder upon, if they so wish. Imagination is the key. Imagination and a desire to let the mind explore on its own.
It's been a good fifteen years since I read the novel (at the time of writing this review that is) and after skimming through the book, I was amazed at how much of the tale has been lodged deeply into my memory. What jumps out straight away when revisiting the book is the powerful emotion towards the shadowy concept of death that the book projects. Everything seems to be shown through a tighter lens, exposing and examining everything in a much greater detail. From here Barker then projects the raw responses into the bigger picture; with ideas of God, mortality and creation all echoing through the book.
As I sit here typing, I can't help but fall in love with the book all over again. Writing this review has brought it all back to me and I must say that I truly love this tale. It's unlike but at the same time so very familiar to all of Barker's other work (why am I purposefully contradicting myself again?). There's certainly a lot of his other work in there. But it's viewed from a different window, with a slower more graceful pace applied to its delivery.
This is a book to settle down to at the end of a long day. It's a book that will engage you and pull you into a new place away from your day-to-day life. It challenges and inspires. And ultimately it gets you to think of something greater and to go on and explore these magical new possibilities.
The novel runs for a total of 434 pages.

© DLS Reviews