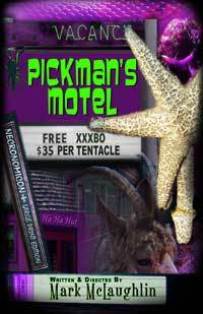 First published back in 2007 by Delirium Books, Mark McLaughlin's 'Pickman's Motel' was brought out in the form of a hardback chapbook that was limited to only 300 copies; each one numbered and hand signed by the author. This limited edition chapbook is the third release in the Delirium Hardcover Chapbook series.

Following on from the success of the author's previous slice of comical Lovecraftian horror entitled 'Shoggoth Cacciatore And Other Eldritch Entrees' (2002), McLaughlin returns with another collection of short stories in his very unique style; this time with a much more adult content. Here, McLaughlin once again delves deep into his bizarre mind to drag up a great mixture of weird and wonderful ideas for his surreal short stories. Like a bizarre crossbreed between H.P. Lovecraft and Eddie Izzard, McLaughlin produces three more wacky tales that pay a comedy homage to Lovecarft's work.

After a short 'About The Author' passage, the book starts off with a quick introduction entitled 'Sects And The City' where McLaughlin pens his own quick introduction to the short story collection, in order to suitably whet the readers' appetite before all surreal hell is let loose.
Pickman's Hotel - 24 Pages
Pickman is an obsessive collector of the most sleazy and depraved movies that have ever been filmed. His tastes cover a wide expanse of genres, all the way up to snuff movies. The story joins Pickman's life as he manages to obtain a very scarce copy of a sleazy movie impressively entitled 'Dark Summoning Of The Insatiable Tomb-Legions'. When Pickman and his friend (whom this story is written in the first person perspective of) sit down to watch the film, they discover that it might indeed hold actual snuff footage involving some rather grotesque ghouls. Pickman's friend is not convinced, and so Pickman takes it upon himself to prove the terrible truth behind the film...with deadly consequences...

This first short is so heavily laced with numerous Lovecraftian references, that it's a joy in itself to read McLauglin's comical parody on them. The tale is simple, but delivers such an imaginative array of surreal moments, that you can't help but laugh your way through it. Like with the other two stories within this collection, 'Pickman's Motel' includes some clever links between it and the seemingly altogether separate other two tales. This links all three up nicely as a complete package - in a similar (but much more light-hearted) way to that of Clive Barker's 'The Books Of Blood' (1984-1985) series.
The Heckler In The Ha-Ha Hut - 28 Pages
If he could make it at the The Ha-Ha Hut he could make it anywhere. Or so Winthrop Goiter thought. And so, the amateur comedian decided he would try his hand at performing at the prestigious comedy club in Arkham. However, unfortunately for him, almighty Nyarlathotep is in attendance had has a particular tendency to heckle nervous comedians whenever they begin a joke. Winthrop Goiter has a tough night in front of him...

McLaughlin throws into the plot a supposed joke that is so amusing it will bring an end to the fragile fabric of the time/space continuum (inspired by the classic Monty Python sketch perhaps). This joke is of course transcribed in the Necronomicon, which is handily available in large print at the comedian's local library where he now works. You can no doubt see where the story is going. With its amusingly surreal nature, this short is absolute hilarity from start to finish.
Tony Tar-Pit And Monky-Face Joe Battle The Flying Mushroom-Devils: A Tale of Prehistoric Arrkhumm - 44 Pages
A group of prehistoric cavemen had come by a strange new pet. This pet, which they had named Buggoth, was a strange cross between a bug and a mushroom, with some even odder resemblances to a crab. But their new pet brings with it deadly consequences...
This elaborately titled short is by far and away the most bizarre and weirdly surreal of the collection. Along with this its content is quite adult in places, laced with some mildly sexually-explicit jokes. However, more 'The Flintstones' (1960-1966) than anything else, this story starts off on a very surreal note and just gets even more bizarre from there on in. Unfortunately, this eventually falls more towards becoming annoying than anything else; with the short dragging along what is pretty much a non-existent storyline. The tale does finally wrap itself up in a clumsy and what you can only guess was a 'final thought' fashion. Perhaps not for everyone, this last effort does deliver a little too much surreal comedy; so much so that it can unfortunately begin to slowly grind on the reader.

The collection itself is beautifully presented in this hardback form, with cover artwork by John Everson that displays a multitude of images from each one of the stories inside.
The book runs for a total of 99 pages.


© DLS Reviews