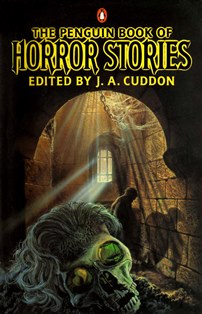 First published back in October of 1984, British author John Anthony Bowden Cuddon's horror short story anthology 'The Penguin Book Of Horror Stories' was compiled and published alongside the publication of 'The Penguin Book of Ghost Stories' (1984).
The anthology contains the following:
Introduction
– J. A. Cuddon - 48 Pages
The Monk Of Horror, Or The Conclave Of Corpses
- Anonymous – 3 Pages
The Astrologers Prediction, Or The Maniac's Fate
- Anonymous – 7 Pages
The Expedition To Hell
- James Hogg – 9 Pages
Mateo Falcone
- Prosper Merimee – 11 Pages
The Facts In The Case Of M. Valdemar
- Edgar Allan Poe – 8 Pages
La Grande Breteche
- Honore de Balzec – 17 Pages
The Romance Of Certain Old Clothes
- Henry James – 17 Pages
Who Knows?
- Guy de Maupassant – 11 Pages
The Bodysnatcher
- Robert Louis Stevenson – 16 Pages
The Death Of Olivier Becaille
- Emile Zola – 22 Pages
The Boarded Window
- Ambrose Bierce – 4 Pages
Lost Hearts
- M. R. James – 9 Pages
The Sea-Raiders
- H. G. Wells – 9 Pages
The Derelict
- William Hope Hodgson – 22 Pages
Thurnley Abbey
- Perceval Landon – 13 Pages
The Fourth Man
- John Russell – 17 Pages
In The Penal Coloney
- Franz Kafka – 23 Pages
The Waxwork
- A. M. Burrage – 10 Pages
Mrs. Amworth
- E. F. Benson – 13 Pages
The Reptile
- Augustus Muir – 12 Pages
Mr. Meldrum's Mania
- John Metcalfe – 26 Pages
The Beast With Five Fingers
- William F. Harvey – 23 Pages
Dry September
- William Faulkner – 11 Pages
Couching At The Door
- D. K. Broster – 19 Pages
The Two Bottles Of Relish
- Lord Dunsany – 11 Pages
The Man Who Liked Dickens
- Evelyn Waugh – 13 Pages
Taboo
- Geoffrey Household – 18 Pages
The Thought
- L. P. Hartley – 10 Pages
Comrade Death
- Gerald Kersh – 24 Pages
Leiningen Versus The Ants
- Carl Stephenson – 19 Pages
The Brink Of Darkness
- Yvor Winters – 10 Pages
Activity Time
- Monica Dickens – 10 Pages
Earth To Earth
- Robert Graves – 4 Pages
Ray Bradbury
– The Dwarf - 11 Pages
The Portobello Road
- Muriel Spark – 19 Pages
No Flies On Frank
- John Lennon – 2 Pages
Sister Coxall's Revenge
- Dawn Muscillo – 3 Pages
Thou Shalt Not Suffer A Witch …
- Dorothy K. Haynes – 12 Pages
The Terrapin
- Patricia Highsmith – 12 Pages
Man From The South
- Roald Dahl – 10 Pages
Uneasy Home-coming
- Will F. Jenkins – 8 Pages
The Aquarist
- J. N. Allan – 12 Pages
An Interview With M. Chakko
- Vilas Sarong – 8 Pages
The somewhat hefty anthology begins with a lengthy introduction by Cuddon in which he goes to great lengths to define what it is that makes a horror story. From there Cuddon further explores the roots of the horror genre, its eventual rise in popularity, its importance in literary fiction, as well as providing an impressive overview of its history since the eighteenth century. And to be fair, whilst the introduction is incredibly well-researched and involved, with numerous references and quotes; Cuddon manages to keep the text engaging throughout its scholarly-like depth and analysis. Indeed, Cuddon clearly has a great passion for the genre, as well as having put a vast amount of time into researching it. And it is a passion that is highly contagious. After reading through this incredibly informative introduction, you come away wanting to completely immerse yourself in the work that has been referenced. And luckily – forty-three short stories spanning almost two-hundred years of horror fiction duly follow…
Okay, so unlike the vast majority of anthology reviews on this website, I'm not going to write a synopsis and a review on each individual tale. For a start, there are forty-three of the buggers. And to be fair the vast majority of the tales deserve far more than a few lines to do them even a hint of justice. Secondly, if I'm honest, I ploughed through this door-stopper of a book some ten years ago (at the time of writing). Okay, so I've re-visited a good number of the shorts since then. But I'd really need to re-read the entire beast from start to finish if I was to do a full story-by-story review of the book. Something that whilst I cradling the sizeable tome in my lap, I've decided that I'm not really that willing to do – at the moment anyway!
However! A number of key short stories really stand out from the anthology, even after all those years. The most obvious standout tale for me being William Hope Hodgson's 'The Derelict' (1912). As creepy and chilling as anything Algernon Blackwood has put to paper, with a Lovecraftian seaward element adding a hauntingly sinister tone to the whole tale, this is an absolute masterclass in how to chill your audience and keep them utterly captivated from start to finish. This really is one of the very best horror short stories I've ever read.
William Fryer Harvey's 'The Beast With Five Fingers' (1946) is another one of those shorts that just stays with you for years and years after reading it. It's as weird and classically 'horror' as it is pure entertainment to read. It's just one of those shorts that manages to keep a unavoidable grin plastered across the reader's ugly mug throughout.
For the sheer perfection of how to end a short, with a twist ending that smacks the reader in the face like a concrete block, Lord Dunsany's 'The Two Bottles Of Relish' (1932) is up there with the best of the best. Admittedly, it's a bit of a slow-starter, with not a vast amount happening through the majority of its length; however for the final six words (yes words) of the short – it's an absolute masterpiece of horror/mystery fiction. Love it!
John Lennon's 'No Flies On Frank' (1964) – yes, that John Lennon! – is laced with such a delightful slathering of dark humour that you can't help but chuckle at the absolute morbid-hilarity of the incredibly short piece of horror fiction. For light-hearted entertainment alone, this, and Roald Dahl's 'Man From The South' (1948) are two of the shorts that really make the anthology such a pleasure to sit down and read.
And finally, Carl Stephenson's 'Leiningen Versus The Ants' (1938) is a monstrously entertaining piece of pulp-ish fiction. A vast advancing army of ants that one stubborn plantation farmer refuses to let destroy his livelihood. It's as awesome as it sounds. Scrap that…it's better! There is absolutely nothing that you can dislike about the short. Nothing.
Aside from those truly spectacular examples of horror short story fiction, the anthology is on the whole mostly made up of pretty darn good tales – each with their own noticeable uniqueness. Indeed, Cuddon has purposefully ensured that no two shorts are anywhere even approaching alike in theme, setting, plot or that often so-all-important-twist-ending. The end result is a particularly fine example of a horror anthology showing how very broad the horror genre spectrum can be. Furthermore, none of the stories include a particularly strong 'ghost' element, so as not to encroach upon Cuddon's other anthology that what published alongside this one - 'The Penguin Book of Ghost Stories' (1984).
For an anthology that reflects a good proportion of the history of horror fiction within the confines of short stories, this book is certainly one of the best out there. Cuddon has carefully selected forty-three excellent examples that show a variety of styles, backgrounds and periods. Each story that has been chosen stands on its own merit. They each have their own feel and place in the anthology as a whole. And together, the shorts paint a colourful and impressive picture of the sheer variety within the horror genre and its stubbornly dominant place within the literary world.
The anthology runs for a total of 607 pages.

© DLS Reviews