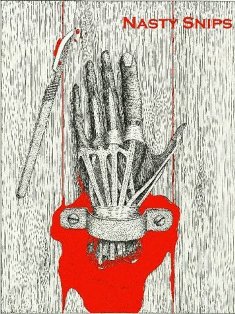 First published back in October of 1999 'Nasty Snips' was dreamt up, edited and finally realised by one man; Christopher C Teague. Originating from a posting on an internet mailing list operated by the small press magazine 'Peeping Tom', Teague's idea of a collection of horror short stories soon became more of a reality when the US based newsletter 'Scavengers' began advertising for contributions.

An Inbox and PO Box crammed with contributions later, Teague set about the task of choosing, editing and solely financing the project. Success or not, 'Nasty Snips' was finally realised and unleashed onto the unsuspecting world.

Comprising of a total of thirty-six gruesome short stories (or flash-fiction as it would probably be better defined) as well as a loose final smattering of grisly poems, 'Nasty Snips' takes the reader through a minefield of surreal short snippets of horror and the bizarre. With the inclusion of some reasonably well-known names in the dark fiction world, 'Nasty Snips' is a little known gem for readers of the genre.

However, not every contribution in the collection is a success; with a large expanse of varied writing styles, the collection feels too loose to be read from cover to cover. A vast multitude of sinful spelling mistakes, grammatical errors and editing faux pas litter the collection from start to finish.

Topped off with a poorly executed electronic image of a gory cover illustration by a Charles S Fallis, there is a definite amateurish feel to the book that cannot be ignored. That said, the collection nevertheless contains a number of well written and thoroughly enjoyable contributions including pieces by Tim Lebbon, Mark McLaughlin, John Everson, Kaaron Warren and Simon Clark.

As long as you don't expect too much and keep at the back of your mind that this was Teague's first attempt at putting together and publishing a collection of shorts, you'll probably find yourself enjoying a lot of what 'Nasty Snips' has to offer.

With the collection containing so many shorts and poems (thirty-five shorts and four poems to be precise), all of which are crammed in to just 158 pages, it's just that little too condensed and 'rapid-fire' to warrant individual micro-reviews on each (which is kind of the norm for anthologies on this website). However, as a whole I would certainly say that the mix is incredibly varied with some contributions standing out from what is mostly a collection of average to weak offerings. But it's amongst this carpet-bomb attack of horror that the real gems come rising to the surface. These ten or so shorts are what truly make the collection worth a few hours of anyone's time.

Admittedly there's a heck of a lot of variation within the collection – most notably with style, the approach adopted and the author's daring to try something new. And with this in mind, and aside from the general hit 'n' miss quality and reasonably lackadaisical approach to proofreading, what comes out from the anthology as a whole is a raw buzz of nervous energy. Yes it often feels like the authors are stabbing at a genre with a rusty knife half the time; but even with this onslaught, there's enough enthusiasm and desire to shock their audience (although this is never really successful), that quite often this alone carries the entertainment of the short pieces through.

The collection contains the following short stories:

Bagged - David M Simon – 3 Pages
The Child Catcher - Darren Floyd - 4 Pages
Angel Of The Agony - D F Lewis - 4 Pages
I'll Always Be With You - Shawn James - 4 Pages
And To All A Good Night - Mike Watt - 1 Page
In Her Own Way - Stuart Hughes - 1 Page
Kidnap Cantata With Accompanying Dialtone - Shikhar Dixit - 4 Pages
This Masquerade - Steve Lockley - 2 Pages
Spider - Jack Fisher - 3 Pages
Mirror Image - John Everson - 3 Pages
The Beach - Tim Lebbon - 3 Pages
Impaled - Craig Sernotti and D F Lewis - 6 Pages
The Dark - Trevor Mendham - 2 Pages
In The Garden Of Flesh - Cathy Buburuz - 1 Page
#Chat Room - J Newman - 4 Pages
Choice - Marice Lynn Tentchoff - 3 Pages
Event Horizon - Trevor Denyer - 4 Pages
The Eternal Idol - Kristopher Reisz - 3 Pages
Boxes And Bags - Gerald Daniel Houarner - 6 Pages
Homework - Ken Goldman - 3 Pages
My Smile - Kaaron Warren - 4 Pages
Pride - Paul Lockey - 1 Page
Waiting For Him - Gene-Michael Higney - 2 Pages
Amen - Simon Clark - 3 Pages
Witch Obsession - John R Platt - 5 Pages
Need - Scott Nicholson - 4 Pages
Exploding Heads - Paul Bradshaw - 4 Pages
Making Music - Edo van Belkom - 3 Pages
A Splash Of Crimson - Amy Grech - 5 Pages
Urcheida - James S Dorr - 4 Pages
Persuasion - Doug Hewitt - 4 Pages
Drool Tool: The Meltdown Mix - Mark McLaughlin - 5 Pages
The Maiden Sings - Staci Layne Wilson - 4 Pages
All I Want For Christmas - Bill Francis - 5 Pages
15 Inches - Jason Andrew - 10 Pages
Four Poems - Tony Milema - 2 Pages

The anthology runs for a total of 158 pages.


© DLS Reviews

A B C D E F G H I J K L M N O P Q R S T U V W XYZ VARIOUS NON-FICTION