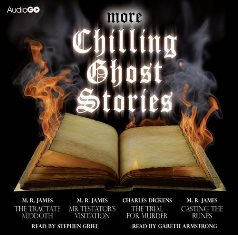 First released back in 2013 by the BBC Audiobook publishers, AudioGo, 'More Chilling Ghost Stories' is a two CD audiobook-set that offers up four classic horror tales; following on from the company's earlier collection '
Chilling Ghost Stories
' (2012). The collection as a whole runs for a total of 2 hours and 10 minutes and includes the following unabridged spoken word adaptations:
The Tractate Middoth – M.R. James
– 15 tracks – 45 minutes 39 seconds
The library was drawing near to closing time when librarian David Garrett was asked by a gentleman by the name of John Eldred to locate a book for him. However, upon trying to assist the man, Garrett found that the book in question, The Tractate Middoth, was out with another elderly gentleman. Wishing to assist Eldred as best he could, the following morning Garrett tries again to obtain the book, only to be taken ill in the process. However, when he embarks upon a trip to the seaside in order to recuperate, by chance he happens to share a carriage with a woman named Mary Simpson and her daughter, who whilst in conversation tells Garrett that she is a landlady, but has a connection with John Eldred. Indeed, Eldred had inherited a great fortune that was legally bequeathed to her. If only she knew where the late Dr John Rant had written the will…
First published back in 1911 within the British author's second ghost stories collection 'More Ghost Stories' (1911), for the most part the short tale is certainly more embedded within a mystery than that of a ghost story. However, as the short tale draws to an end, an eerie supernatural element does work its way into the climax, delivering a haunting ending of ghostly comeuppance. For this audio presentation, Stephen Greif reads the story, delivering a clear and easy to follow rendition of the tale, with plenty of atmosphere and storytelling charm. Indeed, Greif goes so far as to alter his voice for the handful of characters' narratives – putting on a very convincing tone for the landlady in particular. All in all Greif gives a solid performance at reading this strangely compelling story, with plenty of warmth and character to his voice giving it just the right feel for the tale.
Mr Testator's Visitation – Charles Dickens
– 3 tracks – 9 minutes 53 seconds
Mr Testator wasn't a well-off man by any stretch of the imagination. And so when he took up lodgings in an unfurnished room at the Lyons Inn, he found that he was quite without any furniture. However, having access to the property's old cellar, Testator soon found a large amount of furniture stored away in its depths. At first he took just one or two pieces. But within a matter of weeks Testator had removed all of the furniture from the cellar, and having cleaned it up, had set it about his new home for his own use. But, late one night there was a knock at his door from a strange visitor. A drunken old man enquiring about his furniture. Seems the furniture hadn't been forgotten after all...
First published back in 1861 under the chapter title 'Chambers' within his collection of stories entitled 'The Uncommercial Traveller' (1861), Charles Dickens' short is a strange little tale that seems to end rather abruptly without really getting anywhere at all with the 'ghostly' element. Indeed, the story feels very much like a 'filler', or as it was originally published, as a chapter in a larger piece of work. That said, Stephen Greif's reading of the tale is once again full of atmosphere and storytelling charm; drawing the listener into the story with a very fittingly sombre mood that his perfectly-suited vocals create. Okay, so as a standalone-story it isn't all that great, but to be fair, this audio version still manages to do the very best service it can within the limited scope of such an undeniably truncated tale.
Casting The Runes – M.R. James
– 17 tracks – 49 minutes 16 seconds
When Mr Karswell's draft paper on 'The Truth Of Alchemy' is rejected by the Association, the publishers gradually begin to feel increasingly nervous about the decision. For, it emerges that Karswell doesn't take kindly to people who do not do as he wishes. His arrogant and thoroughly disagreeable nature has not won him much support over the years. And indeed, those that have declined previous pieces of work from this supposed alchemist, have not fared well in the long-run. And when the man responsible for dismissing Karswell's paper, a man by the name of Dunning, learns of Karwell's reputation, he starts to become increasingly nervous about the situation. But it's not just nerves that have him seeing strange things now. Something is definitely very wrong…
First published back in 1911 within his collection 'More Ghost Stories Of An Antiquary' (1911), M.R. James' short 'Casting The Runes' has become one of the author's better known stories – having been adapted into a number of different formats numerous times over the years. For this version, Gareth Armstrong jumps in, delivering a far more hurried and pacey reading – which it has to be said can at times be a struggle to keep on top of. Although drenched in supernatural mystery, the story nevertheless seems to plod along at quite a reserved pace; even in spite of Armstrong's much more immediate and hasty reading. However the tale is still an absolute belter – with surprising depths of human psyche exposed, as well as an utterly chilling rise towards its eventual conclusion.
The Trial For Murder – Charles Dickens
– 9 tracks – 27 minutes 29 seconds
The news of a murder had brought with it much talk and speculation. Around the time, a young bachelor who worked at a local bank happened to see two men walking down Piccadilly – the first man looking harassed whilst the second, who seeming to be following the other man, appeared waxen-faced. The significance of seeing these two men only struck the man when he was called up for jury duty, for the trial on the murder. For as he was being selected in court, he realised he recognised the defendant as the harassed looking man from Piccadilly. Furthermore, when the defendant sees the juror, he instantly tries to object. But having no obvious grounds for it – the objection is overruled. And to the defendant's dismay, this man becomes the foreman, and with that, seals his fate…
First published back in November of 1865, Charles Dickens' short story 'The Trial For Murder' is probably one of the author's most well-known of short stories. And it's plain to see why. The tale is a truly superb piece of creeping ghostly fiction, delivering plenty of mystery and suspense alongside a hefty helping of comeuppance within the delightfully well-crafted twist-ending. For this audio presentation, Gareth Armstrong once again powers on with some reasonably pacey reading, although for the most part it is kept at a good solid pace without getting too hard to keep up with. Armstrong's character voices and overall storytelling style work very well with the story – delivering the better of the two presentations by the reader. Indeed, after just a track or two, the listener can't help but become sucked into the tale, as Armstrong powers through this wonderfully clever classic ghost story.

© DLS Reviews

A B C D E F G H I J K L M N O P Q R S T U V W XYZ VARIOUS NON-FICTION