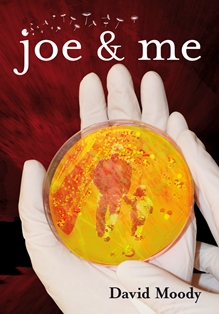 First published back in June of 2012, 'Joe & Me' kick-started the 'This Is Horror' quarterly chapbook series, delivering the final short story in British horror author David Moody's signature zombie post-apocalyptic 'Autumn' series. The chapbook was limited to just 500 signed and numbered copies. However, the story later appeared in the 2013 reissue of the author's 'Autumn' companion book, '
Autumn: The Human Condition
' (2005) as the final story to end the series on.
DLS Synopsis:
Joe Huxtable would say at school that his dad just stays at home but his mum is a brilliant scientist who's going to save the world. However none of his classmates believed him. It was hard to believe that his mother, Dr Gillian Huxtable, worked on a top secret military project that was set to turn the tide on military warfare. But she had another agenda in her work. Alongside the research for the military she was working on a far more humanitarian angle.

But her husband, Simon, could see the cracks in their family life appearing. And with the project nearing its ultimate goal, the suddenly military pull their funding, leaving Gillian and her family with almost nothing. The young couple are now faced with some difficult decisions. But Gillian knows that she can't give up on her research.

And then the military take the next step. The Airborne Defence Program is initiated far too early. And just like that, Gillian's research into a vaccine is made useless. But Gillian has a final card to play. One that could eliminate the military's control of the world's air. There's been so much at stake, and now they're about to face the most difficult of ultimatums…
DLS Review:
How about I settle for a simple one word review? A one-word-summing-up that will encapsulate how you will probably feel after reading 'Joe & Me'?... 'Breathtaking'.
Okay, so the short story works to its absolute perfection when it's read at the very end of the entire 'Autumn' series. Having gone through so much, having witnessed so much chaos, violence, despair and loss – to finally have some answers as to why...it simply takes your breath away.
As such, the short works best as the very final story within the 2013 re-issued version of the '
Autumn: The Human Condition
' (2005) companion to the series. After taking the reader through so many stories, detailing so many lives that have endured the horror brought about by the plague – all within one final volume - this final insight into how it came about is the perfect way to end the incredible series with.
As a purely standalone story, I couldn't possibly say how accomplished or entertaining the short is. I have absolutely no idea. Having read all of the 'Autumn' novels already, the short was just that final story that needed to be told. And in this capacity alone it is truly moving. It's not often that I feel so emotionally invested in a story, but with the entire 'Autumn' series, Moody has created something that is much more than just another post-apocalyptic zombie series. In 'Autumn' he has torn apart mankind and exposed the very essence of what it is to be human. He's somehow shown humanity in all its shades, and even in the grimmest of moments, shown how we can still have strength and hope. And so, with this final chapter to the whole series now filling in that one unanswered question, the series is complete, and it details how it was brought about in the same utterly human way.
And so I return to that one word review I pondered giving. Perhaps I should have just left it at that. Because on its own it's entirely fitting to the tale.
Breathtaking.
The chapbook runs for a total of 37 pages.

© DLS Reviews