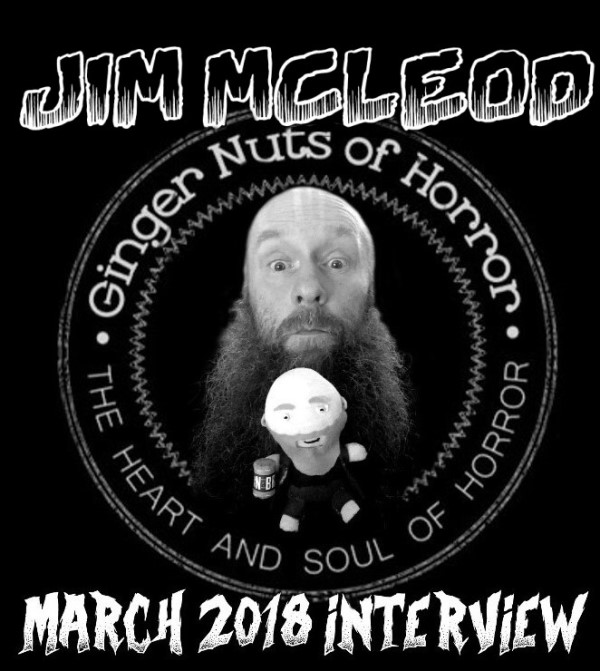 Big Jim McLeod - The Don of Horror – is a veritable legend in the horror community. The big, bald, bearded Scot is a much loved and incredibly highly respected figure in our chosen genre.

His website, Ginger Nuts of Horror, has been going for over a decade. Over the years the site has gone from strength to strength, the family of horror fanatics behind the reviews, interviews and articles that appear on the website remain some of the very best in the business.

The sheer dedication and impartial honesty exhibited on GNOH has made it probably the most revered independent horror reviewing website around.

Jim's a man who wears his heart on his sleeve. He's not afraid to speak his mind and dish out some brutally honest home truths – for better or worse. It all makes Jim the man who he is. A concrete pillar in the horror community. A reliable, brutally honest, and loyal friend to the genre, as well as many of those within it.

This is what the big man had to say…









DLS -
Firstly, many thanks for taking the time out of your busy life to be interviewed on DLS. Over the last handful of years I think everyone would agree with me when I say you've become a much- loved and highly respected champion for horror. As such, over at DLS Reviews we thought it would be very interesting to hear your views on a whole host of aspects to do with the world of horror and GNOH's undeniable contribution to this much-loved scene.
Making the decision to run your own reviewing website is a pretty big decision. I know all too well how it swallows up your time, requires constant love and attention, and more often than not means you'll be forking out from your own pocket on a recurring basis. As such, it would be interesting to know how you first got into reviewing, and what made you want to then build your own review website?
JM -
It all really came about by a series of accidents and stumbles. The initial seed was planted nine years ago. I had an operation on my left arm and my hip, which had me signed off from work for 14 weeks. At that point I was a member of the British Horror Novels message board, Willie Meikle suggested something to do to fill in my days was to interview the authors on the board in sort of never-ending interviews; where we would just chat until such a point where the "interview" petered out.

It was then suggested that I should set up a blog, that's when I launched what was supposed to be called "The Ginger Nutcase of Horror" but thanks to a painkiller-high while setting up the site it became "The Ginger Nuts of Horror". It was never meant to be even remotely serious, and yet here I am about to enter the tenth year of the site, and it takes up more of my time than my actual real job.
DLS -
What made you decide to bring additional people in? And was it a tough decision to make?
JM -
There came the point when there was just no way I could cover a fraction of what was coming in for review, it became frustrating having to turn down review requests from authors I liked and respected, and after months of contemplation, I came to the conclusion that the only way forward was to expand the site with new reviewers.

It was a tough decision to make, one that even now I still have the occasional thoughts of "what if". Which sounds horrible. Don't get me wrong the family members (as I don't see them as contributors), have been fantastic. I couldn't put a price on their contributions to the site, and their counsel and friendship have seen me through some tough times. But there is always the nag at the back of mind about the Ginger Nut voice getting lost. It's hard to explain, and I could never go back to a one-man band. The scope and variation of their work make the site the unique voice that it is in a sea of other multi-author sites that seem to tow the party-line and the advertising-dollar.

There have been some fallouts, a few of the family members have fallen by the wayside, some for having views and opinions that I, in my heart of hearts, couldn't be seen as supporting in any way. And there have been others who just used the site as a stepping stone for their path, and there was one who I thought was one of my closest friends until it turned out he had spent months bad-mouthing me and fanning the flames between authors and other sites. But hey that's what happens in families – there are always fallouts. In truth, I think it has made the site stronger and the bond between those that remain even stronger.
DLS
-
Can you tell us a little about each one of those who write for GNOH, how they became involved, and (this will be an interesting one) what you think their respective fortes are?
JM -
I'm going to have to cheat a little here; there are over 20 people who contribute to the site. If I were to talk about every one of them I'd be here all week. What I will say is we have such a diverse range of reviewers, not just in our horror tastes – from Alex Davis and his love of obscure extreme horror films, to my more subdued tastes and to say Tony Jones' YA fiction expertise – but in our backgrounds, and our outlooks on life. To be honest, I am in awe of the reviewers on the site. They are far better writers than I can hope to be, they find insights in their reviews that I would never have found. But more importantly to me and I think to the ethos of the site, is their roles as members of the family, without the council and friendships of the old timers.

Kit Power, who is like my Jiminy Cricket – always there on my shoulder keeping me on the right track, a person who is as dear to me as my own family.
Joe Young, who is like the voice of reason, and the at times a great Devil's Advocate, whose unique way at looking at things allows me to see things from a different angle. Without Joe's friendship I would probably have gotten myself into a lot more bother over the years.

Kayleigh Marie Edwards whose unflappable enthusiasm always brings a smile to my face.

John Boden, Jonathan Butcher and Duncan Ralston - my brothers from a different country, who share a very similar outlook on life and the world to me. They are like perfect drinking buddies, never quick to judge, but always there to poke when you make a tit of yourself.
The two George's - Lean and Anderson - whose in-depth and eloquent reviews make me want to become a better reviewer with every new review I read from them.
Charlotte Bond, who is my coffee cream warrior in arms, a person who makes me smile no matter how low I get.

Jonathan Thornton who's a master interviewer, he finds the questions to ask that most other interviewers would miss.


Stewart Horn is a fantastic reviewer and his yearly reports from Dead By Dawn are always one of my favourite features.

Amber Fallon's passion for all things horror and horror community, really shine through in her thoughtful reviews.
Laura Mauro's strength of conviction and passion for making horror more open and inclusive, as well as being one hell of a writer, helps to maintain the site's policy of being open to everyone.
William Tea is another one of my reviewers who makes me want to be a better reviewer. His eloquent and thoughtful reviews are always well received. Sadly William is taking a break from reviewing to concentrate on his writing, but hopefully, he will be coming home sooner rather than later.

In the past few months, we have added a few new members to the family: Steven Hickey, Dave Heeley, Michael Sieber, Matthew Price and I'm looking forward to their contributions to both the site and the ginger nuts family.
DLS
-
How do you choose who reviews what, for GNOH? Is it a free-for-all, or are you more selective in dishing out the review copies?
JM -
We have a super-secret Facebook group; I filter out all of the view requests and those that pass the test get posted up on the group and the reviewers divvy them up between them. In some cases I pass the request on directly, such as any extreme horror films get given to Alex Davis for the Film Gutter series of reviews, before being passed on the rest of the team. Same with the YA stuff that gets given to Tony Jones before anyone else.
DLS -
Obviously GNOH focuses predominantly on horror (although not exclusively I must add). However, have you had any thoughts of expanding further into any neighbouring genres, and if so, which ones?
JM -
All the time, but I worry that by moving into other genres it will dilute the site's place in the genre. However one of my crusades is getting horror into the hands of those who don't normally read or watch horror. So would covering other genres help with that? It's an answer I have never been able to find.

That's one of the reasons why we keep stuff like The Summer of... to just a special series of articles. It keeps the focus on horror, but also allows us to make some headway in other genres.
DLS -
With so many books constantly arriving for review at GNOH HQ, do you find that you don't really get to choose what you want to read anymore, and if so, does this frustrate you sometimes?
JM -
I make a point of reading one book for my own pleasure for every three books I read for review. It does get frustrating, to a point where last year I went nearly a whole year without reading a book for review. I became burnt out to the max. I couldn't even look at a horror book. It got so bad I felt that I was never going to read for review again. Thankfully that passed, but there is still that little niggle in the back of my mind that threatens to knock me out of it again.
DLS -
How much of, say, an average week is taken up by the arduous and tiresome administration of running GNOH? Have you found the administration burden has become more or less over the years?
JM -
It never ends. I work night shifts four nights a week, and on my nights off I get up at 3am and spend close to three hours a day just dealing with the admin side of it. And that's not including the formatting of the articles and publishing them. Never mind the sharing of them on social media. It gets worse with each passing year. Even with the implementation of a number of rules, such as no review request will be considered unless it comes in via email, it still takes so much time. You still have to go through all the Facebook PM's and the Twitter DM's just to make sure you aren't missing a message from a friend about something that has nothing to do with the site.

It's always been the formatting of the articles that takes the time, especially in creating the headers for them. I love the fan-effect that I used for a few years, and I love looking back at how the image devolved over the years. But a combination of the sheer amount of time that it takes to create that image, and the fact that far too many other review outlets like to pinch the images, I decided to develop a new header image. The Pill image that I use now takes a couple of minutes to create thanks to the ability to save it as a template.

I'm also working a new idea to reduce the email admin side of it, but I'll keep that under my hat just in case the idea turns out to be pants.

DLS
-
Have you got any new plans or ideas for expanding upon GNOH?
JM -
I'm always on the lookout for a new idea, but the main stumbling block seems to be author apathy. I had high hopes for the Childhood series of articles but that just drifted away, despite the ones being posted getting a great response. If you have any great ideas I'm all ears.
DLS
-
I'm sure you won't mind me saying this, but some time ago I read one of your reviews on GNOH, it was of a book that I'd also reviewed over at DLS, and even though you were given a cameo in this particular novel, you nevertheless gave it a particularly critical (but wholly honest) review. I must say, you gained even more respect from me upon reading this review. I know it must have been a difficult decision, and a review you would undoubtedly have spent a large amount of time considering before posting it up on GNOH. Do you find you're often put in a difficult position with providing critical but wholly honest reviews?
JM -
To be honest, that didn't even enter my head. I have, much to the annoyance of my wife, a very black and white outlook on life. My moral compass only points two ways, even if some of my ideas of what is right or wrong are slightly at odds with the rest of the world. If this is the book I'm thinking of, I did contact the publisher first with my concerns about it, and they gave their blessing for the review.

The worst thing a reviewer can do is pander to the author. We're not here to make friends, although that is always nice. We are here to promote the genre as a whole, and you know yourself the genre is looked down upon by almost everyone. So the only way we can battle the misconceptions is by being brutally honest with our reviews. And we have to review and promote the great, as well as pointing out the not so great. If all we do is wax lyrical about every book we read, it gives the impression that we have no quality control.
DLS
-
Possibly the most highly-anticipated novel of 2016 was Clive Barker's 'Scarlet Gospels'. Your reviews on GNOH gave the long-awaited novel a pretty rough ride. After reading your brutally honest thoughts on the book, it got me thinking more about the novel (which shows how damn good your review was) and then (quite oddly) questioning my own enjoyment of it in hindsight. I'd be interested to know what reactions you received from other people when your review went up? And now that some time has passed since you first penned your thoughts on the novel, whether you still feel the same about the book?
JM -
Oh, that was a cracking review aftermath. Since that review went live the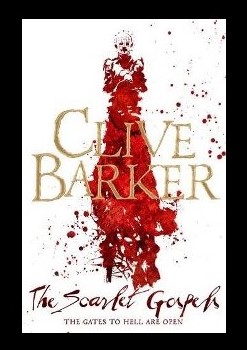 publisher has severed all ties with us to the point they don't even answer my emails. I think it hurt them pretty badly, as up until my review there was nothing but high praise for it among the "proper" review outlets. Which is rather ironic as the same thing seems to be happening with Hellraiser: Judgement. Obviously, there is a personal taste at play here, but even when our resident Clive Barker champion George Lea felt cheated by the book, that's when I realised that my initial thoughts were justified.

Looking back at my thoughts, after all this time and in the wake of The Toll and the new book, my feelings are probably angrier. The book is so flat and devoid of any sense of awe and wonder. A Pinhead versus Harry D'Amour novel should have been the greatest horror book ever written. Instead, it ended up as being Harry spends the novel trying to catch up with Pinhead who is out for a speedwell through Hell. There was no confrontation, no epic battle, and the descriptions of Hell felt as though they had come straight from an Ultima videogame. I think the closest that Barker has gotten to anything published with his name on it in the last few years is who he picked up the cheque for franchising the ideas out. I know he isn't well, but he needs to stop strip mining his legacy.
DLS
-
In recent months I've noticed a handful of authors calling for harder, more critical and damming reviewers who are willing to tear a novel apart without holding back (should the reviewer think the novel in question deserves it). Do you believe the horror community (both authors and readers alike) need this sort of steel-toe-capped boot up the arse?
JM -
I've seen that as well, and as the cheeky so and so that I am, I can't wait for the first of those authors to receive a proper shredding from a reviewer. I see some of them as the drunk guy on a Saturday night screaming at the top of his voice for anybody who's 'ard enough to come and have a go, and as soon as someone goes for them, they end up running down the street crying for their mommy. I also see it as a marketing tool, "look at me getting bullied by the nasty reviewer", or maybe I am a cynic, and maybe it is a genuine call for deeper reviewers. But in all honesty, that should be the job of the editor and the beta readers for the writer.

The genre does need it; I feel it has become very complacent in recent years. The over-reliance of the same names in the same anthologies, the same tropes being wheeled out book after book. The genre is in danger of becoming just meh. It needs a good kick up the arse to save it from itself. You never improve by just being average.

DLS
-
Have you encountered much hostility from authors or publishers who have taken exception to a particular review, and if so, what sort of backlash have you received?
JM -
Hahaha, where do I start? I've had everything from a blocking on social media right up to death threats. Yeah, that's right death threats, both online and in the post at my house. Of course, if they knew me, they would know that that's not the way to make me stop. All that does is turn me into the drunken guy from my above answer.

I've also had my Amazon reviewer's profile deactivated until I could prove that I wasn't a shill, had my Amazon reviewer ranking cut from 78 to 2000 after a bunch of irate fans down voted all of my reviews, and had my Facebook account deactivated for being a "bully"

It's all rather silly when you look at it. It's not as though I'm someone like Mark Kermode (although I did get a higher billing than him on a film poster), or The New York Times Literary review, but we wouldn't be human if we weren't passionate about the things and people we love.
DLS -
GNOH noticeably doesn't score the books it reviews. Is there a reason behind not doing this?
JM -
I've always felt that when you give a score, it takes away from the review. You can write the most eloquent and in-depth review, such as your reviews Chris, reviews that take ages to write, and all that is taken away is how many stars you gave it.

And so many people have this hang up that anything under a four or five-star review means the book is terrible. A three-star book is still a 60% rating. There is still a lot of merit in a three-star book. It could be that it's the same as a Big Mac, not very filling, not a lot of nourishment, but it fills a hole. And by the time you factor in personal preferences that 60% rating could be pushing 50% or even 70%. It's half a star either way, but it has so much weight attached to it.
DLS
-
How do you go about reviewing a novel? Do you take notes whilst you read? Do you have a particular approach to writing the review?
JM -
It depends on the novel; I make notes on some of them as I go along, others, I just read all in one and then tackle the review. There is no rhyme or reason as to which approach I take. As for writing the reviews, I spend more time thinking about writing it than actually writing the review. I spend ages trying to find the angle or a motif that stood out in the book, then using that as the backbone for the review. Some of them are easy to find, others take ages to figure out. For me, it's always the opening and closing paragraphs that cause me the biggest problem, that and avoiding going back to what I call my Marks and Spenser's phase. For a period of about ten reviews, every one contained that line from their adverts "This is just a.... It's a..." or a variation of it. It's pretty embarrassing, as I hate the use of stock phrases, unputdownable, I bet you did when you went for a pee. We all do it; it's one of the dangers and pitfalls of writing so many reviews.

Occasionally I find a unique way of writing a review, such as a review I wrote that contained nothing but lyrics from Scott H. Biram Songs, or the one that was made up of the noir film title, but those are rare occasions. I usually just sit down, open my metaphorical mouth, and spew forth my ramblings.
DLS -
How important has social media been to the success of GNOH?
JM -
It's been good but it has shifted over the years. Facebook is a dead donkey for promotion; the way their algorithms work just strangle the little guys like us who can't afford to sink money into their boosted post system. And it gets worse with every update that they do. I sank a lot of money into my review of Requiem, for a Facebook boost, and got nothing back. But what makes it worse is Facebook now strangles all my other posts in an attempt to make me boost again. That will pass, the grip loosens over time, but it is killing people like us and the authors we try to support.

Twitter is great, once you get the hang of hashtags and how to ride the wave, you get a much better return on your time. I love it when Great British Bake Off is on as I hijack their hashtags with stuff like "forget those biscuits my Ginger Nuts are horrifyingly good #GBBO". I did it so much last season that I was politely asked to stop doing it. Of course, I ignored that request. A few weeks back my Twitter reach was over 2 million, compared to 30,000 on Facebook for the same period. It doesn't mean that 2 million saw my posts, but at least it was out in front of them, unlike with Facebook.

As for the other social media outlets, I don't understand them or use them.
DLS -
The worldwide dominating retailer that is Amazon have had a fair amount of bad press in the horror community in the past. Personally I have a bit of a love/hate relationship with the online retail giant. It would be interesting to know your views on the company, the way they operate, and if you think there's a potential misuse of their dominating position in the retail market.
JM -
I love Amazon; I love the fact that when I go and check on my dog walking supplies and I find that one of my torches is broken, I can go and order a replacement and have it delivered that day. However, I lay the blame at the fact that horror fiction will never breakout of the gutter it has been consigned to. Without Amazon, the market wouldn't be flooded with so much sub-par material. Material from "authors" who shouldn't be allowed to write a shopping list, let alone a novel.

It ties into this new age of entitlement, where everyone believes they have the right and ability to do everything, and god forbid anyone who dares criticise them.

The actual market of people who could be classed as readers of horror is quite small in the UK. The majority of people who read Stephen King, for example, aren't horror fans as such. They are Stephen King fans, but for the genre to rise up it needs to tap into these readers and other casual readers, and by inference, those who cover fiction in the national media. We need to ensure that when to dip into the horror pages on Amazon they are presented with the best that genre has to offer. Which at the moment is probably not the case. You have a sea of poorly written garbage clogging up the first half dozen or so pages of the book pages on Amazon. Stuff that is only there because they have loads of sock puppet reviews, or are written by people who know how to play the game rather than write. And every time someone picks up one of these books, the chances of that person coming back to dip their toes is reduced dramatically.

No matter how you look at it, Amazon is here to stay, and it's up to people like you, me and the other great review sites to make sure that we only promote the best. We need to work to try and get our reviews noticed by those who don't normally read them. How we do that, I'm not 100% sure, but it's something we have to do if we want to the genre to survive.
DLS -
Do you see the rise of ebooks and the resulting influx of self-published indie authors as a good thing, or in all honesty, do you think we were in a better place, say twenty or thirty years ago when publishing houses were pretty much the only viable option for getting your work published?
JM -
My above answer about Amazon may sound pretty damning about self-published authors, and while there are far too many of them out there, there are a lot of great ones doing stellar work. However the sad part is once you get past the hard core horror fan, nobody knows who the hell they are.
DLS -
You're probably asked this all the time, but what advice would you give to a new indie author to get his or her novel noticed?
JM -
Rewrite or at least edit it one more time. Then find out all you can about your market: who are your readers going to be, who are the review sites that will handle your book, learn their review policies, find out their names, then approach them.

And don't talk about your book, at first, talk about anything else, be the most exciting person you can be, that is more important than your book in the early day. And please, please understand the unwritten rules of promoting your book. If someone asks for book recommendations, never give your book as one. That's like the cardinal sin of writing. And don't try and create a persona, just be yourself. No one falls for the badass horror writer schtick these days. Network and network some more.

Slow and easy is the best way, you want to cultivate a readership rather than a downloadership. Just because 1000 people have downloaded your book for free, it doesn't mean they have opened up your book, let alone read a single word of it. Organic growth is better than any other kind.

You must also value your work, don't just settle on some small press just because they will publish your story. Investigate them, speak to other authors who have worked with them, and for all that is holy, go through that contract with a fine tooth comb. Always be on the lookout for phrases that grant them lifetime rights to your work. So many presses at the moment are getting called out for their dodgy reasons. Be careful, don't just sign for the sake of signing.
DLS -
In your opinion, what key ingredients are (almost always) essential in creating a standout, keep-you-up-all-night-long-reading-it horror novel?
JM -
That's a hard one. A lot of it depends on what mood I'm in. But they must all have strong characters, a well-reasoned out plot and a good sense of pacing. No matter if it is a pure pulp novel or a more "literary" novel, I think it needs at least these three elects to work, everything else is just a bonus.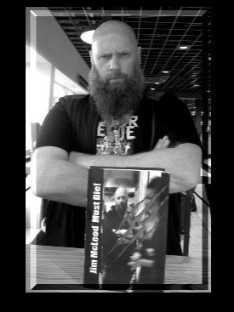 DLS –
I understand you were presented with a special one off hardback book entitled 'Jim McLeod Must Die!' to say thanks for everything you've done for the horror community. Can you tell us a little about how it felt to receive such a gift, and a flavour of what the book contained?
JM -
At the risk of upsetting my wife and kids, it was the greatest day of my life. There's a video on Graeme Reynolds' Facebook of me receiving the book, and the tears were genuine. I had no idea it was going to happen, and in truth, I almost missed the launch as I was a wee bit hung over from the night before. It still gets a warm feeling whenever I look at the book which has a pride of place on my office desk.

The book is basically all these authors gleefully seeing me getting killed or maimed in the most horrific ways. My favourite one has to be Kit Power's story where I get to give Alex Salmond a good old kicking. That is a dream of mine.
DLS -
Have you ever considered trying your hand at publishing? You've certainly got the contacts, respect and trust, and an invaluable knowledge of the market.
JM -
Never, for the same reason I don't write. I leave that up to those who can and who are better suited to it than me.
DLS
-
Have you ever tried your hand at writing your own horror fiction? And have you got any plans or desires to write anything (more) in the future?
JM -
The only thing I have ever written is a story that was created using that "How to write Horror" book that came out a few years ago. It was a book that basically contained really shitty stock phrases for any situation in a horror novel. My favourite was "the axe penetrated her more deeply than any man ever could". I wrote it as a sort of Facebook live thing, it went down really well despite being totally devoid of any merit whatsoever.

I'm a firm believer in not everyone should write. I know I'm not a writer, I suffer from bad dyslexia, to the point where even simple things like "there", "they're", "their", are a struggle to get correct. Writing a story would just get me frustrated and annoyed.
DLS
-
Every reviewer seems to adopt their own style of reviewing. DLS Reviews offers up in-depth, lengthy dissections, although I'm all too aware this is often not the sort of review everyone likes. Do you have a particular type of review that you prefer to read?
JM -
I like reviews that tell you about the book. I love your reviews and I wish I could be as in-depth and penetrating with my reviews as yours. If I am looking for a review that fully dissects a book then yours are the first I look at. I like most types of reviews, the short sharp reviews can be just as informative as a longer review.

The ones I don't like are the ones that read like a P7 book report. You know the ones, where if you stripped out the rehashing of the plot, or the 500 words on how the reviewer came across the book, you'd be left with a coulee of stock phrases and pointless marks out of ten.

Or the ones where the review is a copy and paste of the back cover synopsis followed by "I loved this book it was great". I want to punch a wall when I see an author rig about a review like that because they have scored it out of five. It's not a review it's a rating. But that's just me being grumpy again.
DLS
-
Dawn Cano's extreme horror fiction reviews and Alex Davis' extreme horror column 'Film Gutter' are two popular features on GNOH. Are you also attracted to this harder-hitting, more visceral side of horror?
JM -
In fiction yes, films not so much. Especially after having kids. I'll never watch something like a Serbian Film. No chance. No way in hell. You could put forward a 50,000 word essay on the artistic and cultural merits of it and I'll just go "good for you, I'd rather smash my set in the head twenty times than watch that." It's not that extreme horror has no merit, it's just not for me.
DLS -
From time to time GNOH has offered up incredibly informative articles and guides to indie authors as well as shining the spotlight on the more unscrupulous publishers out there. In fact, I think the entire horror community have a hell of a lot to thank GNOH for in terms of the invaluable information and support the website provides. It's no small feat to write such articles, no doubt sucking up even more of your valuable time. What made you first start to provide such articles and have you had much feedback from those who have read them?
JM -
I have great fun writing those articles; I use them as a sort of palette cleanser when I have hit a block in reviews. I started to write them as I was constantly getting asked the sort of questions that the articles covered. It must have been after the tenth rep that I finally had that lightbulb moment of "why don't you just write this down, then point them in the direction of the articles, rather than basically writing the same article out over and over again". Sometimes I'm slow at joining the dots, but I get there eventually.

I'm mulling over one just now on how to spot a good PR agent out of the many out there, but I might need to wait for some of the fires going out first.

I just wish I had kept a copy of the guide I wrote on writing dialogue. It only ever existed as an email in a long-dead email account. It's something I'm passionate about. Nothing gets my bile rising more than a clichéd Scotsman in a story (and yes I am looking at you Steve Alten and your book The Loch).

I've had a great response on those articles. Some have even been reprinted in other magazines and a couple of books. It's always good to know that your work has helped a writer find a better path in the publishing world.
DLS -
Earlier on in the year it looked like GNOH would sadly be closing its doors. The news caused tidal waves across the horror community, showing a tremendous amount of love and support for both you personally, and the website. I think I can safely say on behalf of the entire horror community that it's wonderful to see GNOH back and once again at the very forefront of providing news, reviews and articles on our chosen genre. Were you surprised with the amount of support you and GNOH received, was it a difficult decision to bring GNOH back, and what do you see for the future of the website?
JM -
That was a serious low point in my life. It felt as if everything was against me, not just with the site. I got hit with a massive website hosting cost, and I mean massive. But my personal life was starting to become hell. I suffer from chronic pain, stemming from a lot of teenage injuries from playing rugby, kickboxing and long distance running, at a time when I shouldn't have been doing so much at such a young age (not that you would think I used to do that based on how I look now). It had become almost unbearable. I was on a cocktail of painkillers that played havoc with my head. I was sleeping for three hours tops a day. Then I was floored with crippling back pain and a dose of blood poisoning that saw my hand swell up like a balloon.

This all saw me at A&E at 11 p.m. after having a massive fallout with my wife, and all that was going through my head was I need to get those articles formatted for posting. That's when I realised that something had to change. And like I always do, I go for the knee-jerk reaction: the site felt like it was the root of all my problems, so I canned it.

I hadn't noticed at first the amount of support the site was getting and the level of concern, as I had taken myself off social media. I needed a total detox. But after receiving a couple of emails with screenshots of all the people who had changed their profile picture to the GNOH pumpkin face, I was overwhelmed by the love for the site. It's a funny thing this reviewing lark, no matter what the viewing figures for the site are, or the number of shares etc., it's a pretty lonely game. You feel isolated, never quite in with the in-crowd. It's hard to explain, to have a network of thousands of people, most of whom will always lend an ear or a shoulder to lean on, you just feel like you are in splendid isolation.

And yet despite that level of support, it was still a hard decision to bring the site back. I hated the person I had become, but on the other hand, I don't like to lose, and it started to feel like the site had beaten me. And I couldn't have that (as a side note never play a game of monopoly with me, that's never pretty).

I'm glad I came back, it feels a lot more fun now, as for the future, I don't know. I'm happy for the site to grow and expand as it needs to without too much pushing.
DLS -
One of the great perks of being in the reviewing business is that you're able to discover exciting newcomers and often criminally overlooked authors. Do you fancy naming a handful of those we really should keep an eye out for (with a super quick snapshot on each as to why they deserve such a shout out)?
JM -
I hate questions like this. One of the lesser known effects of being a dyslexic is the difficulty we have in making up lists like this. Our brains don't process information in this way, so excuse me for an hour or two while I go and dig through my bookshelves…

Right I'm back, and I think Chris, that you can guess who my first choice would be: Chris Kelso, man can he write. His books can be daunting, his writing style challenges you to the point there are times when you aren't sure what you are reading, then boom it all falls into place.

Amber Fallon, is an up and coming American writer, who just knows how to write a damn entertaining story, stories that take me back to the heyday of early 90's horror.

Neil Spring is a wonderfully atmospheric writer. With three novels under his belt he is carving a niche for himself with his quiet horror/supernatural thrillers.

Jonathan Butcher, is a force to be reckoned with. Anyone who can write anything as brutal and divesting as "What Good Girls Do" deserves to be taken notice of.

Phil Sloman: I'm including him as a new writer thanks to his best newcomer nomination in last years BFS awards. Phil's writing has a way of getting underneath your skin and unnerving you without you even noticing it. His novella Becoming David is a fantastic place to discover his work.

Then there is the Trio of Terror as I like to call them: Georgina Bruce, Laura Mauro and Tracey Fahey. If you are looking for deeply emotional, heart wrenching horror that challenges your outlook on life, then these three writers have that end of the market all seen up. Powerful stories that are just as likely to chill you to the bone as they are to break your heart.
DLS -
And finally...usually I ask authors to name their top five all-time favourite novels. However, considering you've probably read far more than your fair share over the years, if you don't mind, I think we should stretch the request to naming your top ten! You game?
JM -
In no particular order:
The Rats
(1974) - James Herbert
Nightwarriors (1986) - Graham Masterton
Necroscope III: The Source (1989) - Brian Lumely
Stinger
(1988) - Robert McCammon
Weaveworld
(1987) - Clive Barker
The Ritual
(2011) - Adam Nevill
The Halloween Tree (1972) - Ray Bradbury
King Blood
(1997) - Simon Clark
Carrion Comfort (1989) - Dan Simmons
Ghoul (2007) - Brian Keene
DLS -
Many thanks for taking the time out to speak with us Jim. It's been an absolute pleasure.
© DLS Reviews

You can visit to Jim Mcleod's website 'Ginger Nuts Of Horror' here…