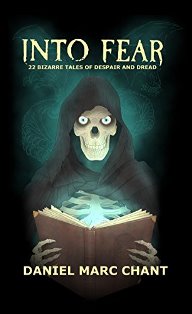 First published back in October of 2016, British author Daniel Marc Chant's short story collection 'Into Fear' promised twenty-two bizarre tales of despair and dead. Okay then, let's see what we've got…
The Urgency Of Horror – Foreword By Tim Dedopulos
– 3 Pages
British writer Tim Dedopulos opens Chant's short story collection with a short but surprisingly thought provoking foreword centred on the basic elements behind fear and our inherent reasoning for accepting horror into our primal lives. It's short and straight to the point and delivered with the engaging skill of a good wordsmith.
Dreadmill
– 12 Pages
The zombie outbreak didn't really have all that much of an impact on Lindsay and Susan's lives. Yeah it was an inconvenience – but it also had its perks. They just got on with life. Hitting the gym and betting their newfound luxuries on silly little challenges against each other. That's what best friends do. They look out for each other. No matter what…
Back in 1978 director George A Romero unleashed his highly-acclaimed zombie classic '
Dawn Of The Dead
' (1978) onto the unsuspecting world. Although drenched in blood and zombie gore from the outset, the film also included a surprisingly savage social commentary – attacking the state of our commercially driven modern society with a comical slyness. Some forty years on from then and we're still seeing such underlying social commentaries injected into zombie fiction. Indeed, it's the very backbone of Chant's first short offering. The end of the world is upon us, and yet two classic American High School brats are living it up, with new trainers and fancy sports cars being their absolute prime concern. It's witty and wonderfully warped. Not a bad start at all Mr Chant.
Gamarada Rock
– 10 Pages
After his beloved fiancée left him at the altar, Adrian Shotbolt hits the Australian Outback in the campervan they'd bought for the purpose of their honeymoon. Filled with anger and frustration, Shotbolt knows he just needs some time on his own so he can lick his wounds. The desolate and empty outback seems an ideal place. So pulling off the road in the barren desert, he settles down for some supper under the crimson sky. And that's when the strange shimmering woman wearing a wedding gown appears by his side. The last thing Adrian wants is to see a woman right now. Especially one dressed for marriage. But he can't help but ask her why she's here. He can't help but listen to her story…
Urban myths are the fossil fuel for horror shorts. They're the original tales of terror. The roots to collections like this one. For his second offering Chant's wholeheartedly embraced the urban myth ethos – telling his story with that colourful campfire chiller tone that's needed to set the scene. There's definitely a hint of tongue-in-cheek horror here, and it's crippled somewhat by an all too predictable twist. Nevertheless, it's entertaining – and isn't that what this particular style of short is all about?
Be Nimble
– 10 Pages
It was the night of the 19th of February when Jane Alsop first confessed her worries with her sisters, Mary and Stella. She knew they'd struggle to believe her concerns. Dare say, they probably thought her fit for the sanatorium, after she told them what had been troubling her of late. But she knew it was more than just a figment of her imagination. Spring-heeled Jack was real…and he'd been haunting her dreams. And now she was convinced he was after her…
Ahhh..the legend of Spring-heeled Jack. A delightful Victorian villain that's so painfully underused in horror. I have to admit, at the mere mention of the clawed creep, I was sucked into the story. And fair do's to Chant – he's set the Victorian era backdrop near-perfectly. It's got that Jane Austin vibe going for it, although with a suitably sinister undertone that works its way up out of the dialogue and finally into the very forefront of the short tale. Executed very nicely. Suitably periodic, but without getting too encumbered with periodic furniture that surrounds the real thrust of the plot.
A Class Of Their Own
– 13 Pages
Zombies to Duncan were more than just a hobby. He was utterly and wholeheartedly obsessed. In fact he'd pretty much dedicated his whole life to the undead. Watching the movies. Reading the books. Learning everything there was to know about them. At first his wife Debbie had seen it as just a harmless hobby. But now she was beginning to get worried. He'd converted their cellar into a survival bunker, and had enough weaponry in the spareroom upstairs to take out an entire regiment of shambling dead. I guess that was the point. So when news came in that a meteor had hit Earth, wiping out the entirety of Paris, Duncan was suddenly in his element. This could be it. This could be the apocalypse he'd been waiting for. Debbie on the other hand, was off to bed…
Love it! If you even have just a passing interest in the whole zombie subgenre then you're going to dig this one. It's witty, it's catapulted along by smirk-inducing (and entirely believable) dialogue, and contains enough post-apocalyptic action to pull you right in there. Clearly based on zombie aficionado Duncan Bradshaw and his despairing wife – it's a story bursting with affection, and apocalyptic action, whilst raising that all important question: "should zombies be able to run?"
The Heartstone
– 11 Pages
Varshok of K'taath came to under a tangle of bodies. Dripping with blood and the stench of post-battle death, the Slayer of Kings cut his way through the cold flesh and out into the lifeless world above. He was lucky to survive the fight. Lucky to have been knocked unconscious before the orcs slaughtered him like they had so many hundreds of others. Now Varshok could take what he needed. With blade in hand, he could slice into the cooling chest of a fallen orc and remove the black heartstone inside. It was the key. What he had fought so tirelessly for. Now it was time for revenge. Time to seek out the one who had stolen his love and pay him back for the injustice with no remorse…
Ha! How many genres can one author interweave into an eleven page short story? What starts out reading like a Tolkein-esque fantasy, with swords and sorcery and orcs aplenty, all of a sudden jumps dimensions into a modern day gangster setting set in the heart of London. Indeed, Chant's gone all out with genre mixing here; laying on two distinctly different storylines that only come together in the last few, where you're met with a spectacular Clark Ashton Smith meets Lovecraft style ending. The whole concept's highly imaginative and wonderfully executed; effortlessly showcasing the limitless possibilities open to you via the medium of written fiction. Welcome to Chant's mindboggling multiverse – where no genre is unblendable.
Ball Of Thread
– 12 Pages
Albion's greatest spy – Jack Theseus – was on a mission. He'd gotten himself into the compound, avoiding the two-headed dogs that guarded the high fencing, and from there into the truck where he now sat with twelve other refugees. They'd each given up all their possessions in exchange for the dream of a new life. As Theseus glanced at his fellow passengers, he saw they all had one thing in common. They were all beautiful in their own right. Perfect fodder for the Minotaur. And as they pulled away from the compound, heading for Albion, Theseus knew the real fight was about to begin. Within the endless passageways of the vast labyrinth, Jack Theseus would face the Minotaur, and in doing so, he would finally set Albion free…
One thing I love about short story collections like this is that the authors feel much more able to try out a load of weird and wacky ideas. There's far less requirement or pressure to pave out an intrinsic backstory. Characterisation is allowed to be slimmed down in favour of a faster-paced, more straight-to-the-heart-of-the-matter approach. It's where raw inspiration is allowed to blossom with unbridled vigour. That's exactly what we have here. A blend of Greek Mythology with a Guy N Smith style pulpy-thriller protagonist. In fact, the whole short feels so much like a Smith-esque short story. One of those ones where it lays it all down quick and fast and dirty. Action, suspense and pure entertainment.
Isophase Light
– 22 Pages
Overlooking the vast stretch of the Atlantic Ocean, there was something strangely unsettling about the old decommissioned lighthouse that stood upon Wolf Rock. The University had purchased the lighthouse to aid Professor Bracken-Holmes with his studies. It was to be an observatory where the once highly-revered Professor hoped he could find the comet that would confirm his theory of celestial mechanics. Of course, Maxwell Blake was all too happy to assist the professor. There was much to be learnt from the great professor. Much that Blake admired. And maybe, just maybe, he might become involved with one of the greatest astrological discoveries of the last century. For up in the night sky, within the endless clusters of stars, something strange was happening in Cassiopeia…
One thing I've learnt about Daniel Marc Chant from the bits and pieces I've read of his work thus far is that the man can write some seriously top notch Lovecraftian / Ashton Smith style horror. It's clearly a major influence. His absolute passion for the style, the prose and the cosmic horror plots just sings through the stories. Here we have a textbook dark sci-fi that's firmly embedded within an Ashton Smith style of mythos. It's dark and bleak and drenched in oppressive gloom. Science and insanity – two subjects that often go hand in hand with such plots – are at the very forefront of the tale. Yes the horror is vaguer; purposefully quieter, and because of that, just that little bit more sinister. In my opinion this is where Chant works best. And if anything this story just confirms the opinion that cosmic Lovecraftian horror is Chant's absolute forte.
Le Ciel De Chocolat
– 12 Pages
Gabriel Mathis' Chocolaterie was thought to be the finest chocolate shop in London. But it wasn't the chocolates that Elizabeth Hawkins had her eye on…it was the enigmatic Frenchman who owned the shop. A man she had gradually become more than a little infatuated with. But it was when Monsieur Mathis waved across the road at Elizabeth as he entered his shop that she finally made her mind up. Today was the day that she'd sample more than the Frenchman's chocolates. Today was the day she'd offer herself to him. And she wasn't going to take no for an answer…
This is a fun one. Its basic premise is pretty straight forward. In fact the direction Chant's taking the short tale in is probably edging towards being predictable. However, the storytelling is absolutely spot on here. It's the sharp witted and colourful way in which Chant tells the story that really pulls you in. Alongside this the dialogue is also excellent. The end result is a weirdly bizarro-esque story of indulgence and lust taken to wonderfully twisted levels. As I said, it's a damn good 'un!
Yo-Ho-Oh-No!
– 11 Pages
It's Christmas Eve and the Jones family have all turned in for the night. But Toby and his brother Harry are far from tired. How could they be tired with all those presents waiting for them downstairs? Even though they don't believe in Santa anymore, they still want to take a peek. Perhaps a quick nibble of a mince pie. See what's under the tree. See what their mad inventor for a dad had been up to this year. After all, what's the worst that could happen?...
Declaring itself as "A Children's Christmas Horror Tale", here Chant offers up another entirely different type of story. Yes it's a tad more age-friendly. There's no blood, guts or nasty gore. Instead what we have is the sort of story a young boy would undoubtedly lap up with gusto. It's about creeping downstairs in the middle of the night on Christmas Eve to see what's under the tree and hopefully catch a glimpse of Santa (who you no longer believe in anyway). And of course, there's the wacky over-the-top kid-friendly 'horror' aspect. It's weird and wonderfully creative with fun at its heart. Made me grin anyway.
Daryl Duncan
– 19 Pages
He woke to the sounds of London life drifting through the hotel window. He had no memory of how he got to be where he was. Why he was in a hotel or even who he was. He had no memory at all. His mind a pocketless void of nothing. Complete amnesia. A note left by the bedside stated his name was Daryl Duncan. A name that failed to rekindle any memories for him. A book nearby stated the same name inside the cover. And then the first spots of blood appeared…
I fucking love this one. It's so well executed and so utterly captivating. It drags you into a mindboggling fog of mystery from the very first few sentences, and continues to keep you nestled in this cold embrace of uncertainty from there on. Chant's used a couple of well-known names from the horror community in the short. Although neither characters were based upon the real individuals (one hopes) the nod towards a couple of guys – even in name only – is always a pleasure to see. One aspect of the short that Chant gets just right is the careful balance with black comedy. Surrealism meets terrifying horror, with comedy forming a slither of light relief. Indeed, in a similar way to Bret Easton Ellis' '
American Psycho
' (1991), you'll smirk at the ludicrous nature of it all, but ultimately the weirdness just adds another uncomfortable layer to the fucked-up horror on show. This is very possibly the best story in the collection.
Head Librarian
– 10 Pages
It had been six long months since Clark Hawthorne last had a job. Now he had to endure the nerve-wracking process of an interview. He'd prepared the best he could. Ludvig had given him plenty of guidance. Nevertheless, Clark was understandably nervous. But first he had to find the place. Find Yoggoth House where Miss Lambert and Mr Hill – the proprietors of Dagon Enterprises - waited for his arrival and the many stories they hoped he'd tell…
Here we have another Lovecraft and Clark Ashton Smith inspired offering. In fact, the short is veritably bursting at the seams with references and nods to the great godfathers of cosmic horror. What works particularly well in the short is how Chant carefully drip-feeds the Lovecraftian references, so as not to give away the direction the story's going to take. Indeed, with our protagonist being named 'Clark' and then learning of the 'Yuggoth House' and 'Dagon Enterprises', it's a slow but constant snowballing of hints as we learn more and more about Clark's travelling background and the two strange interviewers sitting before him. Of course there's a twist at the end…and it's an absolute beauty.
In The Bleak Midwinter
– 13 Pages
February 1855. It was the bleakest midwinter to hit the market town of Kingsworthy in living memory. All routes to the outside world were deemed impassable and supplies were getting short. The adults of Kingsworthy were getting increasingly nervous at the predicament. However the children saw things differently. The snow and isolation afforded them the means for more play. But there was one other thing bothering the adults that intrigued seven-year-old Mary Rossetti and her nine-year-old brother Percy. There was a rumour that a lunatic was at large. A string of murders had fuelled the nervous whisperings. Rumours that if you said 'lunatic' three times, the madman would be summoned to rid you of those you despised. People such as their drunken no-good parents. Of course Mary and Percy agreed it was worth a try…
I love fiction that's based on old unexplained folklore. Here we have Chant's re-envisioning of the old 'Devil's Footprints' story that was supposed to have plagued the area around Exe Estuary in East Devon back in 1855. The mystery remains unexplained to this day. What perfect fodder for a horror short story! It's something that Chant's capitalised on perfectly – with a classic midwinter premise supporting this altogether creepy-as-hell tale. The atmosphere is perfect, the 'Hansel and Gretel' style storyline suits the time and overall tone. And the ending is like something out of a nightmare. Guillermo del Toro eat your heart out!
Continuity And Permanence
– 9 Pages
Farley Arkwright came to with the sound of an ear-piercing scream followed by a steady, rhythmical beep. Everything was a blur. Nothing made much sense. He tried to recall what had led him up to this moment, but his head was nothing but a void of fog. Gradually, as the seconds ticked by, the first object began to fade into focus. It was a doctor. He was leaning over Farley Arkwright…and he had a scalpel in his hand. This couldn't be happening to him. What was going on? Why was he here and why was he still conscious?...
I think everyone shudders at the thought of waking up during a medical operation where you're the one being performed upon. It's a horrifying notion to say the least. Of course Chant knows this and plays upon it with the skill of a surgeon slicing back the layers to expose all those tantalisingly raw nerve endings. The concept of this short is relatively simple. A guy wakes up to find that he's being operated on. And as this happens, he relives those final moments that got him where he is. And then you have that all-important gut-punch of a twist, signing the thing off with. For a quick, simple nine-page horror, this does exactly what it set out to do. Chillingly cold with a properly sinister conclusion.
Good Morning, Mr. Murray
– 14 Pages
Nev Murray woke in the small hours of the morning with an overwhelming sense of something being wrong. After a quick check around the room he realised it wasn't something imminent, but rather something tucked away at the back of his mind. It was only after he got up to start getting ready for work that he realised what it was. He'd left some food in his locker at work before he went off on holiday. That was some two week ago. He couldn't imagine what sort of festering state it was in now. Although nothing would prepare him for what those rotting scraps had turned into whilst he was away. Still, despite the weird mutation in his locker, everything else seemed to be turning up roses for Nev. Although the sudden promotion to management did seem a little odd. But who was he to question those in authority?...
Frigging love this one. First off we have ourselves a couple more familiar names. Fellow reviewer Nev Murray takes the lead role, with extreme horror author Matt Shaw darting in from the sidelines for a quick cameo midway through. Outside of these friendly nods, what we have is a delightfully mysterious short that as it slowly unveils what's really going on, a proper B-Movie style plot kicks in. Oh yes, it's got some wickedly over-the-top madness chucked in for some solid gold tongue-in-cheek entertainment. This one is pure unadulterated fun from start to finish.
Bait Box
– 11 Pages
Time and again Martin found himself contemplating murder. Everyone just seemed to annoy him. It's like people disliked him for no good reason. Over the years he'd become a simmering pot of anger. Someone who shouldn't be messed with. If only his boss, Mr Sanfelice, had known this. Then maybe Martin wouldn't have punched him full in the face when he'd pushed Martin too far. Although it did result in a holiday for Martin. A chance to relax and get away from it all. A fishing trip to France where maybe he'd land a big one. In fact, out on the quiet French lake, Martin managed just that. He pulled in the catch of his life…
These stories are just getting better and better. What starts off as a 'Falling Down' (1993) style of story soon turns into 'River Monsters' gone weirdly and wonderfully wrong. The backdrop is set to absolute perfection. Indeed, Chant knows how to reel in his readers. And that's precisely what he does, with this oddly compelling read that all of a sudden takes a nosedive into horror that'll leave you breathless. Chant's absolutely nailed it here. Flawless.
Conductive Salts
– 10 Pages
It was nearing the end of a long day of roaming the countryside with their metal detectors when Brett and Emma decided they'd head to the nearby beach. The last dregs of sunlight were fading when their border collie, Bramble, started barking at the sandy ground around a concrete block that was used for mooring. After digging into the damp sand, Brett pulls out a small statuette depicting a strange beast – part snake, part squid, and part mollusc. Emma instantly has an uneasy feeling and the dog seems terrified by the statuette. Regardless, Brett couldn't be persuaded to throw his bronze prize back into the sea, and so it came with them. However, upon finding the strange statuette their seemed to be change in Brett's temperament. He no longer seemed the same loveable boyfriend to Emma. Even Bramble seemed to notice the shift in his personality. Emma didn't like it at all. And it all seemed to be since Brett found that eerie statuette…
This was first published in the Sinister Horror Company charity anthology '
The Black Room Manuscripts: Volume One
' (2015). Once again it's firmly stationed within pure Lovecraft / Clark Ashton Smith territory. As I previously wrote in my review for the anthology, the story would be perfectly at home in one of those numerous 'Cthulhu Mythos' anthologies that seem to appear every few months. That's not to say such stories don't have their own merit. Continuing with and expanding upon such an imaginative mythos can often produce some damn entertaining stories. And although not announcing itself as such a tale - Chant's short would nevertheless fall into this territory. Okay, so the idea behind the short isn't exactly brimming with originality. I seem to recall at least five or six shorts which utilise this basic plot. But it's with Chant's delivery of the story, along with the delightfully swift and vicious ending to the tale that makes it potentially stand taller than its peers. I have to admit – I really did enjoy this one.
Zabobon
– 16 Pages
Madam Balicki's vision had become badly impaired; her abilities compromised. With her crystal ball damaged, she was unable to see much of the future. The past had also become a quagmire of confusion. Which is exactly how she felt as she pondered the complexities of it all in the back of the taxi. The crystal ball revealed some of what had occurred to her. Those events that led up to the taxi ride. Of the spectacled man who entered her caravan declaring himself to be none other than Doctor Gyorgy Sokal. A man who the Last Freak Show collectively despised. The infamous alchemist who they believed dead. But there he had stood before Madam Balicki. Wanting to tell his story. Wishing to fulfil his fate at long last…

Okay, so this one's a bit of a headscratcher. The accompanying synopsis is my interpretation of what takes place in this short tale. However, the timing of the events may be a tad wrong. You see, the whole story is jumbled up from start to finish, with barely any guiding links to keep you on track. The past, the future and the present are all interwoven and interlinked, although their correct order in the grand scale of things is far from clear. As such, I have to admit to feeling a tad frustrated with the story. The disjointed confusion does little to draw you into the short tale. If anything it kicks you out, time and time and time and again. That may be the point. That may be some clever ploy of Chant's. I just don't know. It's just too unclear.
Titanomachy
– 29 Pages
The bulldozers had already moved in, and despite the constant outcry from the tree-hugging community, George MacEliot was determined to build his railway across Hag Milling Heath. The recent double-murder of locals Paul Feeney and his girlfriend Cheryl Kelly couldn't dissuade him from his mission. Even if the randy young lovers had been decapitated, dismembered and disembowelled mere metres away from the spot they were excavating. It had taken a police investigation to still the bulldozer engines. And now MacEliot wasn't happy. He'd have his railway. And no talk of missing body parts, or ancient sacrificial altars would stop him…
Originally written under the title 'Doomtrain' and included within the '
Hell Of A Guy
' (2016) anthology which celebrated 25 years of the Guy N Smith convention, Chant has made a few minor tweaks to character and place names (incorporating a couple of familiar names) and published the story for a much wider consumption (the 'Hell Of A Guy' anthology was never meant a full publication). The story (in its original form) is based upon Guy N Smith's pulp horror tale '
Doomflight
' (1981) - a weirdly all-over-the-place tale, with an almost haphazard stitchwork of parts coming together to form the overall story. Daniel Marc Chant's offering is far less so, but nevertheless incorporates a similar style of slotting together these strange parts. Chant's used the same basic plot for his tale, and taken it to equally odd and nightmarish places – with the build of a railway upon the ground of an ancient sacrificial site causing your run-of-the-mill horrific consequences. Indeed, here we have a Great Cosmic Game being played out, with Hag Milling's Circle at the very epicentre of the action. There's plenty of weird stuff going on, with cloaked druid-like worshippers pitted against MacEliot's workforce. This is cosmic horror meets good old fashioned pulp horror at its mindboggling finest. There's a heck of a lot going on in this weird and wonderful short, and by Hag Milling's mild temperament, if it's not fantastically entertaining from start to finish.
The Beast Of Bowline Moor
– 8 Pages
The night was drawing in when the Caxton family decided to set up camp on the Bowline Moors. Whilst the parents set the tent up for the night, the kids sat around the campfire telling each other ghost stories. Thirteen-year-old Andrew had started the stories off, but it was eleven-year-old Sarah who decided to up the ante. She had a story about a vicious beast, as big as a lion, with savage teeth and claws that feasted on human blood. One glimpse of the beast was enough to turn a person's hair white with fear. And according to Sarah's story, it was last seen right where they were camping, on the Bowline Moor…
This is a pretty straight forward campfire style chiller. It's basically a story within a story that ultimately breaks through that barrier and suggests a potential reality behind it all. Don't worry, that's not ruining things for you. It's a 'twist' you'll see coming from the very first mention of the beast. However, despite the glaring predictability of the tale, it's nevertheless a joy to read. Well written with enough colourful dialogue to keep you fully engaged. For a super short horror, it's not a bad offering at all.
The short story was first published within The Sinister Horror Company's free promotional ebook 'The Offering' (2015) and was later included within the re-released version of '
The Offering
' (2017).
Shunned Stew House Special
– 5 Pages
It was cold, it was dark and it was raining. Winfield Scott was hungry, tired and lost. But as exhaustion began to creep its way through his tired body, a potential reprieve from the hostile night came into view. Sitting on the brow of a hill stood a large Victorian house. Winfield knew the derelict looking property was his one hope of surviving the night. A temporary sanctuary. A chance to get his breath back. But maybe the house wasn't entirely deserted. As Winfield crept inside, he realised he could detect the faintest whiff of cooking. Outside the rain and wind hammered the old walls, but inside it sounded like someone was whispering. Food…eat…hungry…
This is a reasonably odd one. The whole story plays out more like a strange nightmare sequence rather than a short story per se. The reasoning for our hapless protagonist being lost in the dark and rain is never revealed. Why he's running and what it's from isn't important. Like in a dream – some things are just taken for granted. It's more about the fear and desperation than the what, why, who or when. And that's really the philosophy behind the whole short story. Stuff just happens. And it's all about the mounting terror behind it all. The base reaction. The nightmarish fear.
The Ring Of Karnak
– 22 Pages
When Carter Donovan received an unexpected package from the firm Pickett, Carpenter and Smyth, he instantly felt somewhat agitated. He didn't like surprises. It was one of the main reasons why he'd moved from London to the sleepy village of Fennelcliff. Nothing ever happened there. And that's the way he liked it. But now he had a mysterious package to open. And he found the contents equally as perplexing. It contained an ugly ring etched with strange symbols which his late uncle had apparently bequeathed to him after his untimely death. Alongside the ring Donovan found a parchment carrying the message "Destroy this thing. Be stronger than I". Interest suitably peeked – Donovan decided then and there that he would learn of the ring's history and how it came to be in his hands now. However, as Donovon was to learn, such a thing would prove to be a particularly difficult task, and one that would often bring about a wall of hostility whenever he spoke of this strange and ancient ring…
First published in the Sinister Horror Company charity anthology '
The Black Room Manuscripts: Volume Two
' (2016), what we have here is another one of those Lovecraft-meets-Tolkien style of tales that have become somewhat of a staple addition to modern-day horror anthologies. As you'd expect, it's got its feet firmly rooted in the sort of early twentieth century style of writing that compliments the storyline so well. And fair do's to Chant – he's pulled the whole thing off masterfully. There's all the gentlemanly decorum and old English charm that go hand in hand with such a story. For the most part we're treated to a typical mystery-style plot, whereby our protagonist is on the search for answers surrounding the strange ring he's inherited. We get all that 'The Wicker Man' (1973) hostility which of course goes from being plain old rude to something far more sour. If we're honest, there's nothing overtly original nestling in the story, but fear not, that doesn't stop it from being a damn entertaining yarn.
The Royal
– 13 Pages
Sam had been away from his hometown in the rural reaches of Dorset for the best part of half a century. All that time he'd never wanted to revisit the place in which he'd grown up. He'd not wanted to reopen those wounds. To bring back all that pain and hurt. But now at the age of eighty-three, with nothing but a life of regrets behind him, he realised it was finally time to face up to his demons. To return and see what was left of the place and the people that he'd run from all those many years ago…
This is a strange one to finish the collection on. It reminds me of Rich Hawkins' short 'The Father' from '
The Black Room Manuscripts: Volume Two
' (2016). Cloaked in a thick veil of loss and bitter regret, the story is one which wallows more in a pit of a life-long despair rather than that of true horror. There is a strange twist to the story, but it steers closer to the shores of mystery and this aging fella facing his personal demons, than what most would class as 'horror'. Nevertheless, this is one compelling read. Utterly captivating with the haunting mystery behind the man's past and the hurt it clearly brings him. It's a very 'human' tale. But one hell of gloomy note to finish on.
Afterword by Thomas S Flowers
– 3 Pages
For his afterword critically acclaimed author Thomas S Flowers tells us about his favourite stories from the collection, before going on to detail the importance of such collections of short stories as a whole. It's a fitting end, highlighting the imagination unleashed through collections of this nature. And that's exactly what we saw within Daniel Marc Chant's collection. Unrestrained, undeterred, and unbridled imagination that plunders the many chasms of horror.
The collection runs for a total of 302 pages.

© DLS Reviews