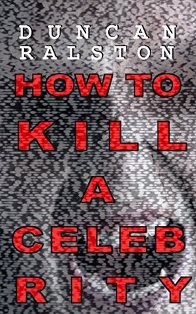 First published back in April of 2015, Canadian author Duncan Ralston's novelette 'How To Kill A Celebrity' was an ebook only publication that offered up a dose of chilling psychological horror.

DLS Synopsis:
It was Annie Watkins' first day at Channel 5. She'd not long been out of college and was keen to make a good impression. After all, ultimately it was a career in television that she'd been working towards. And this could be the start of just that.

Her supervisor at the TV station, Ray Smart, introduced her to Burt Ellis, who Annie was informed she would be working alongside. Burt dealt with the standbys – edited obituary packages prepared in advance of when a celebrity dies. Annie found it a morbid idea, but it made sense to start preparing such things when it looked like a particular celebrity might be nearing their time.

However, the following day when Annie returns to work she discovers that her mentor, Ellis, has retired. He'd given her no warning that her first day was her only day to learn the ropes from him. There was no final goodbye. No indication whatsoever that she would now be taking over the reins so suddenly. However, as she was reminded by her superiors that morning – it was only standbys that she would be working on. She had time on her side.

But then, as she finished her first standby, news of that very same celebrity's death was announced. The coincidence was chilling. But surely nothing more than that? However, after completing her second standby, the same happens again.

The repeated coincidences were beginning to cause a stir in the New Orleans TV Station. Annie knew she had to get to the bottom of what's going on – for her own sanity if nothing else. Was she cursed to kill off celebrities through her new job? One man would surely know – her predecessor Burt Ellis…

DLS Review:
I think it's fair to say that Ralston's 'How To Kill A Celebrity' is a bit of a slow burner. For the first third of the novelette Ralston plays his cards really quite close to his chest, only very gradually revealing where the story is edging towards after a great deal of scene setting and characterisation has been established.

So what have you got with the tale? Well, it's a quietly chilling psychological horror with a dark supernatural backbone holding the flesh of the piece together. Our protagonist is young Annie Watkins who finds herself confronted with a particularly unnerving situation, which she at first treats with a very plausible scepticism. And through these initial few pages, the reader is offered the first proper insights into the believable nature of the character.

From this carefully established premise, Ralston begins to interweave a strange voodoo-curse style of story that's been given a twenty-first-century lick of paint. Ralston himself works within the television industry, so he's clearly playing to his strengths. Indeed, he knows the various intricacies that go on behind the scenes at a TV station, and as such, is able to wrap a sinister story around the believable setting of this, which in turn makes the creeping horror of the novelette just that much more convincing.

Unlike earlier offerings from Ralston, 'How To Kill A Celebrity' doesn't throw down bucket-loads of visceral gore, nor does it involve hard-hitting scenes of adrenaline pumping violence or the like. Instead, and very much in the same vein as his short story 'Viral' - from his collection 'Gristle & Bone' (2014) - Ralston goes for a gradually unnerving vibe that slowly creeps under the readers' skin. Indeed, there's a sort of Koji Suzuki essence behind the whole thing which holds the reader in its cold embrace, as piece-by-piece, the whole horror behind it all is revealed.

Ralston's a talented writer. He can write horror that chills the reader, he can cut deep with some seriously stomach-churning gruesomeness, and he can thrill you with some adrenaline-pumping action. Here we have the chill factor used with meticulous precision. Admittedly it's a tad more subtle than some of his earlier stories – but that corpse-cold chill is still there. And his knack at messing with his readers heads remains one of the greatest weapons in his arsenal.

The novelette runs for approximately 30 pages (an ebook estimation).

© DLS Reviews