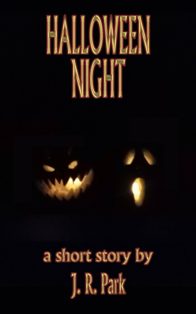 First published back in October of 2017, British author J.R. Park's 'Halloween Night' was offered as a free-to-download ebook short story to celebrate Halloween 2017.
At the time of writing, the ebook was still available for download via Park's old website. Click here for a direct link to the download page.
DLS Synopsis:
She was relatively new to the area. The suburbs suited her well, being just outside of the busy city. Nestled away from all the prying eyes. Early on she'd struck up a friendship with Julie, her new next door neighbour. The friendship had blossomed over the last nine months. Her thoughts now turned to Julie, whilst outside her house she could hear the voices calling her. Taunting her from behind their masks. The bang, bang, bang on her front door reverberating through the house. This was Halloween night…
DLS Review:
Oh yes, this one's a hell of a lot of fun. For his Halloween inspired short story, author J.R. Park crams as many twists and turns as is humanly possible into this increasingly dark and sinister short tale. Indeed, from the start you're made to think the story is heading towards a sort of 'The Purge' (2013) style of plot. Without wanting to ruin any of the twists that follow (and there are many), what I will say is that what follows is far from where you'll originally anticipate it to go. In fact, it keeps its cards close to its chest, sending your thoughts down multiple false routes until the dark and altogether grisly horror is unveiled in those final blood-soaked moments. A great little Halloween story.
The short story runs for a total of 9 standard ebook pages.

© DLS Reviews