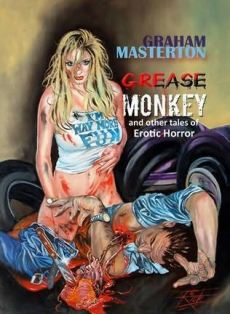 First published in May of 2011 by Hard Gore Press (an imprint of the Shropshire based MHB Press); Graham Masterton's erotic horror short story collection 'Grease Monkey and Other Tales of Erotic Horror' was one of the first publications to come out of this company specialising in finely bound limited editions.
The book was released in three different limited edition formats:
A Collector's Edition (150 signed and numbered copies) - The book is bound in Vistula Colorado Book Cloth with a sewn book block, head/tail bands and a bound-in ribbon book mark. The pages themselves are 115 gsm matt coated paper, which gives the book that added luxurious weight.
Deluxe Edition (75 signed and numbered copies) - The book is handmade, quarter bound in goat skin leather with handmade marbled paper covered boards, including additional artwork and issued in a special slipcase.
Lettered Edition (26 signed and lettered A-Z copies) - This ultra-luxurious edition is handmade, fully bound in leather with gilt edges and handmade marbled endpapers and comes issued in an extra indulgent handmade traycase.
The books include 13 black & white pencil illustrations by the very talented Rick Melton, each of which are extremely graphic in nature.
As a whole the collection offers fifteen erotic horror short stories which are exciting, gripping, horrific, tantalising, surreal, taboo, or just plain old grotesque. Ranging from the bizarre to the extreme, the shorts cover a vast spectrum of different angles within this often steered-away-from subgenre.
What becomes apparent after reading a number of the shorts is that the tales appear to get stronger and more sordid the further you progress through the book. Whether this is a conscious (break them in gently) decision by the collator, or just the way the shorts fitted best together, the outcome is a collection that keeps on pushing the reader further and further into the corruption of the author's dark and downright seedy imagination.
As a whole the book is an addictive and utterly provocative collection of tales, each with their own stand-alone merits and underlying sleaze-factor. What's really put on show here is the versatility of the author's imagination, with so many vivid and twisted ideas pulled together into one publication for us to lap up in whatever obscene manner we see fit.
Yes it's strong, yes it's gory and yes it's sleazy. But what it's also is a thoroughly, unashamedly and uncompromisingly good read. For those that want to know more about the tales included, here's a story-by-story breakdown with their own pocket-sized review:
Grease Monkey - 12 Pages
On his drive through Devizes, car enthusiast and bank manager, Ralph, realises that his precious 1948 Healey Sportsmobile needs some immediate attention by a well-trained mechanic. Spotting a traditional old-school car mechanics, he pulls in to be greeted by a stunning 'Daisy Duke-esque' mechanic. Certainly not the usual doddering old grease monkey that he was expecting to see. And with little other option but to trust in this scantily-clad and outrageous exhibitionistic car mechanic, Ralph lets the woman get her hands under his bonnet. But she's got more on her mind than just fixing classic cars…
First published within issue 2 of the Borderlands Press magazine-book 'Gauntlet' (1991), Masterton's gloriously colourful erotic horror short sets the collection off in a good swing for the things to come. Glistening with sleazy sexual exploits and a delightfully pulpy twist ending; this is a seedy little black-comedy with plenty of kick to it. What a tale to get the ball in motion with.
Bridal Suite - 20 Pages
Newlyweds Peter and Jenny Delgordo arrive at their supposedly luxury hotel in Sherman, Connecticut, where they will be spending their honeymoon. However, upon arriving the young couple find the hotel alarmingly deserted. That is, until they find the aged old proprietor – Mrs Gaylord, asleep out back. Finally being shown into the premises, they find it decrepit and rundown, with no other guests staying in it whatsoever. Not to be too disheartened during their honeymoon, the young couple are shown to the Bridal Suite where they will be staying for the next week. However, following some unusually fierce lovemaking, Jenny's husband suddenly disappears into thin air. Jenny is understandably distraught; and Mrs Gaylord seems to take the bizarre disappearance in her stride a little too easily...
First published in the horror story collection 'New Terrors #1' that was edited by Ramsey Campbell and published by Pan (1980), this second short in the collection is a suspense-filled creep-fest, with the hotel vividly and expertly depicted in its rundown state. The atmosphere is chilling; wallowing in an eerie atmosphere from the outset. The sex scenes are as exciting as they are stark in their out-of-place eroticism. The pure horror plot-twist is executed to perfection, and the wrapping up of the tale is finished off without a fault. This really is a tense and lurid little supernatural tale with one hell of a bite.
Lolicia - 30 Pages
Following a long and exhausting, but highly successful day at the filming studio, Jeff Pearce comes home to his wife Susan who is none too pleased with him. An argument quickly erupts between the two, leading to Jeff finally losing it with his wife and slapping her hard across the face. That does it for Susan – she gets herself out of their home and off to a nearby bar without a seconds thought. And there, in the bar she finds herself being seduced by none other than the world famous actor Jack Amberson. A man that no woman in her right mind could say no to. And it appears that Susan is no exception to this. But what Amberson has in store for her is a hell of a lot more than she bargained for…
First published in the short story collection/appreciation of Masterston's work entitled 'Manitou Man: The Worlds of Graham Masterton' (1998), this erotically-charged escapade into rough sex, betrayal and ultimately revenge is an utterly captivating read from start to finish. The characters of Jeff and Susan Pearce, even in the somewhat limited space of the short, are beautifully portrayed, with real feelings and passion welling up in each of the characters. The sex is vivid and relatively strong – with the main thrust of the tale firmly behind this red-blooded sexual element. The ending, although not entirely unpredictable, is bursting with smugness and black-comedy cruelness. It's more erotic than it is horror, but it's certainly no less of a read because of it.
Heroine - 28 Pages
They met by chance in the Dog & Duck. Clifford Eager II and Anne Browne – Major Browne's youngest daughter and perhaps the most beautiful woman Eager had ever laid eyes on in his life. Their meeting was brief, her proposal blunt, and their lovemaking delivering a night of endless passion. But the following morning Anne has to leave; and there is a good chance their paths will never cross again. And so they both resigned themselves to that fact. That is, until Eager unexpectantly sees the woman of his fantasies, naked and looking increasingly beaten mere weeks later. How can this be? And what is it with her and her constant desire for punishment?...
First published in the erotic horror anthology 'Hot Blood Series: Kiss and Kill' (1997), Masterton's mysteriously luring short is heavily laced with intrigue and growing bafflement from the start. At first the sex scenes take precedence over the storyline, only to have the callous brutality that is emerging gradually take over until the final (and altogether unpredictable) twist ending slaps the reader in the face with the sheer cunningness of the tale. Excellent stuff!
The Jajouka Scarab - 28 Pages
Dr Grant Donnelly is one of America's leading experts on the impact of beetles on human society; although at the reasonably youthful age of thirty-one, he doesn't exactly look the part. And for that matter, neither does his beautiful co-worker in the field – Suzanna Morrison. Together, the two travel to the Little Hills of Moroco in search of the legendary Scarabaeidae Jajoukae – a beetle that brings intense pleasure and pain when used within intercourse. Now, finally they are on the trail of this mysterious beetle that many would pay dearly for. A beetle that most believe to be just a myth. But Donnelly knows better…
First published in Masterton's short story collection 'Flights Of Fear' (1995), this very erotically charged short packs in an incredibly Clive Barker-esque S&M theme, delivering a grotesque yet seductive tale that homes in perfectly on many of the sexual elements explored within the likes of Barker's 'The Hellbound Heart' (1986). The sudden stomach-churning twist of the finale is relatively unexpected, but excruciatingly sadistic with its gory outro. An all-round masterclass in erotic horror.
Camelot – 30 Pages
Jack Kellar's life is suddenly ripped apart when he's informed by the police that his wife Jacqueline has been mirrorized (dragged into a mirror to remain trapped within its glass confines). In sheer desperation he goes in search of the man who sold them the mirror that trapped his beloved wife. But the antiques dealer can offer him no hope of retrieving his wife. However he has one last and final option - joining her…
First published within 'The Hot Blood Series: Strange Bedfellows' (2004), Masterton's utterly surreal short was inspired by Alfred, Lord Tennyson's Victorian ballad 'The Lady Of Shallot'. Indeed, various passages from the poem are referenced within the body of the tale, leading the reader into this highly elaborate and bizarre homage to this fanciful poem. The addition of the comical character of Punipuni Puusuke adds another weird and comically-surreal element to the storyline, throwing the reader even further off-guard with the wacky nature of the whole tale. The short ends in a monstrously gory finale that seems slightly off kilter with the rest of the tale…although its impact does end the whole short on a very successful high.
Sex Object – 22 Pages
Mrs Helen Ellis has a dilemma in front of her. On no account does she want to give up her life as the wife of the incredibly rich Bradley Ellis. But their marriage is quickly losing its spark, and she has a good idea why. She has learnt that Bradley likes his women to be sex objects. Nothing more and nothing less. And now she has an idea of how she will keep her husband. She just needs to convince the transplant miracle worker – Dr Arcolio to go ahead with the procedure…
First published in the anthology 'Hottest Blood' (2003), the short is utterly perverse and a no-holds-bared sleaze-fest from the outset. Masterton sets off toying with the mystery of what the young woman is after, to finally unleash the hideous taboo of the plan in the most surreal and stubbornly sexual manner. The short just spirals out of control from here, with the snowball effect of an increasing sexual madness. The tale is a hideously bizarre erotic fantasy, visualised into a wonderfully grotesque mutation of reality. This is nothing short of a sex-crazed imagination gone wild…and you can't help but love it!
Changeling – 30 Pages
Gil Batchelor is a moderately successful transport sales man who's away on business staying at the Amstel Hotel in Amsterdam. Whilst there, he spots an unbelievably gorgeous blonde woman who he quickly becomes somewhat infatuated with. Soon enough, they're both in the hotel bar having a drink, when the woman – Anne, agrees to go up to Gil's room with him. Once in the privacy of his hotel room, the two embark on a weekend of passionate lovemaking. The last thing Gil will be thinking of is his wife and kid back at his home. But Anne isn't exactly who she seems to be. And Gil's about to find out the hard way the cost for his adultery.
First published in the 'Scare Care' anthology (1989), Masterton's short is a saucy romp of a tale that plays around with a popular male fantasy taken to a horrifying new degree. The characterisation of Gil Batchelor is spot on, with his very human personality shining through the tale. The twist and resulting run-up to the finale is slightly predictable but doesn't really suffer for it. More a warped erotic-sci-fi than a horror, the short still has a very cutting finale and a truly gripping plot.
Picnic At Lac Du Sang – 34 Pages
It was the first time that Vincent Jeffries had been to anything like this. Only when his friend Francois Baubay had insisted that they travel down from Montreal to the St. Michel-des-Monts bordello did he finally give in and accompany him. But once he was there and surround by the seven stunning young girls, together with the mesmerising Madame Leduc, did he finally give in to his desires and succumb to the girls' seduction. And one such girl has more than caught his eye. A beautiful brunette named Catherine whose pregnancy only enhances his instant love for here. But when he plans to take the girl away from the bordello, he finds out the hard way why the girls really are trapped in the bordello for all eternity...
First published within Masterton's 'Feelings of Fear' (2000) anthology, the short dives in head-first with the erotic thrills of a bordello plucked straight from an average man's fantasy, which is then quickly established as the principle location for the vast majority of the tale. The sex scenes are vividly lascivious, keeping the reader's blood pumping with the raunchy side to this increasingly suggestive tale. When Masterton finally uncovers the strange twist that has the girls locked away, the storyline just spirals and spirals into a madness, that ends with an outrageously pulp-horror finale.
The Secret Shih Tan – 28 Pages
Craig Richard is the head chef and owner of the Burn-the-Tail French and Asian restaurant on Santa Monica Boulevard. His exceptional cooking skills have become renowned across Los Angeles. Indeed his dishes are often referenced as being more sexual than gastronomic. But his whole outlook on cooking is about to change, after he is propositioned by a mysterious customer one night who claims to have in his possession a copy of the legendary cookbook – The Secret Shih Tan. This is no ordinary cookbook, but one that deals solely in the cooking and consumption of human flesh – principally that of the sexual organs. For allowing him to read the cookbook in its entirety, the mysterious Mr. Xawery asks only that the chef cook one dish from the book – the choice of which dish is his alone…
First published in the 'Faces of Fear' anthology (1996), Masterton's shocking and explicit short deals principally with cannibalism along with a monstrously sexual taboo undertone. Let us not forget the controversy that surrounded Masterton's earlier short that dealt with a similarly taboo subject matter, in the now infamous 'Eric The Pie' from the quickly withdrawn first issue of the horror fiction magazine 'Frighteners' (1991). For this return to the consumption of taboo meats, Masterton gets into the thick of it with his elaborate (and dare I say imaginative) recipes for the cooking of the meat, as well as serving up one of the most chilling tales to fall within this anthology.
Rococo – 18 Pages
Margot Hunter is a successful business woman at the prime of her life. She has everything, including a great future ahead of her. Life couldn't be going better for the ambitious young account executive. And now she appears to have picked up a stalker of her own. But this well dressed, well-mannered and overly generous man named James Blascoe isn't your usual run-of-the-mill stalker. Far from it. Instead he keeps appearing offering exquisitely expensive gifts to the baffled young woman. But with such luxurious items it's hard to say no. And it's not like they can do any harm…
First published in the 'Hotter Blood – More Tales Of Erotic Horror' (1991) anthology, Masterton's short 'Rococo' is shrouded in mystery from the start; laying down breadcrumbs hinting towards what might in fact be going on, up until the final (and somewhat) graphic realisation. This is certainly a slow builder, but when it eventually reaches its gory climax, the short ends on a monstrously nasty high. A truly fantastic read.
Epiphany – 34 Pages
When the heavens opened up on Jessica and her taxi was so rudely stolen from her, she decided to dive into the nearest building for shelter from the downpour. That building just happened to be the 'Queer Nation' exhibition showing the photography of the infamous Jamie Starck. Realising her error, she tries to leave but finds herself uncontrollably compelled to stare at one particular photograph of a naked young man. A young man she is told was the willing sexual slave by the name of Lo Duc Tho. A beautiful and seductive young man who all of a sudden starts appearing in the most real fantasies Jessica has ever experienced. Fantasies that seem a little too real…
First published in the anthology 'Hot Blood XI: Fatal Attractions' (2003), Masterton's short is another incredibly erotically-charged tale, this time reversing the submissive role to that of the male. Masterton expertly plays with the sexual fantasies and desires from the woman's perspective, building on the experiences until the sudden twist and final (slightly predictable) horror-finale. The short is a sex-crazed romp of a read with plenty of mystery and weirdness to keep any good horror fanatic happy.
Suffer Kate – 28 Pages
Gerry grew up with the constant worry that his best friend - Jamie Ford, would one day take his love of self-strangulation too far and finally kill himself. From when he was just a child he had developed his love to 'Suffer Kate'. All through school Gerry would quietly watch over Jamie, rushing in to save him if his erotic asphyxiation went too far. And on the last day of school, when Gerry thought he would finally be free from this heavy burden of responsibility, he finds Jamie near to death with the cheerleader Laurel Fay riding him. But once again Gerry saved his life. Now, almost seven years later, Gerry's found himself witnessing Jamie back to his old tricks once again. But this time he's on stage as the despicable main attraction for ghouls and perverts alike…
First published in the anthology 'Hot Blood Series: Deadly After Dark' (1994), the short tackles head-on the highly-controversial subject matter of asphyxiophilia. Written in the first person perspective of the somewhat level-headed Gerry, the tale is tense and stomach-churning from the very outset, with the constant edgy threat of the very true to life risky sexual practice exposed in all of its seedy and horrific glory. This is a strong tale, no question of that. It's emotive and shocking as well as lurid and despicable. For that and many other similar responses, it is a triumph of harsh erotic horror. Not for the easily shocked. And one hell of a downbeat ending!
Son Of Beast – 38 Pages
A deranged serial-killer is at large, targeting heavily pregnant women who he rapes and suffocates with cling film; leaving his calling-card for the 'Son Of Beast' fairground ride. Detective Helen Foxley is on the case, but alas they have no leads whatsoever. That is until Joachim Hocheimer turns up at the police station with a strange proposition – to trap the killer by impregnating Detective Foxley with the sperm of Richard Vuldus. For Vuldus comes from a family whose genetics have been crossed with that of a horse leech. Then it's just a matter of making sure Foxley is the next target and her unborn offspring will do the rest…
First published in the anthology 'Hot Blood XIII: Dark Passions' (2007), Masterton's short is by far and away the most off-the-wall, over-the-top pulp-horror madness to grace the pages of this collection (or many other such collections for that matter). The concept is as far-out as the actual storyline. The willing suspension of disbelief is vital for the consumption of this ingenious piece of erotic pulp horror fiction. Just succumb to the madness of it all, and it will quickly become one of the most thrilling, engaging and delightfully pulpish tales you'll ever come across. It's lunacy in the written word and it's all the better for it. Superb!
Sepsis – 22 Pages
David Stavanger and Melanie Angela Thomas are very much in love with each other. At just twenty-four years old, the couple have their whole lives ahead of them. But they have no want to embrace anything else in life other than each other. They live, breath and taste each other - all day, every day. And to symbolise their love, David has bought them a small kitten. But when the kitten goes missing in the dead of winter, their lives quickly begin to fall apart. Forgetting the outside world, the two become so utterly consumed in each other, that nothing else but their undying love matters…
First published as a limited edition chapbook by Cemetery Dance, Masterton's gritty love story gone sour is a tension builder with plenty of kick to come. The finale hits the reader in two stomach-churning blasts, as if discharged from a gore-packed literary shotgun. The first shocking turn of the plot is utterly repulsive in its graphic visceral glory. The second and final twist is a truly Ed Gein moment that, although not unexpected (especially if you glimpse the accompanying graphic illustration beforehand), is delivered with such an impactful atmosphere of dread, that it chills the blood of even the most veteran of horror aficionados. And what a note to end the collection on!
The book concludes with a quick three page 'Note From The Publisher' – Gregory Hurlstone. The passage is full of understandable praise for Masterton's work (as you would expect), but also takes a brief moment to reflect on the use of sex within horror fiction, the beginnings of the erotic horror subgenre and its current place in horror as a whole.
The collection runs for a total of 411 pages.

© DLS Reviews