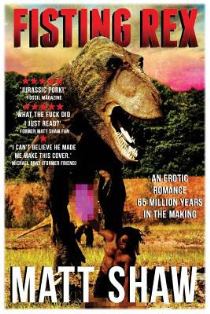 First published back in April of 2016, Matt Shaw's chapbook-sized novella 'Fisting Rex' was written after the author discovered Dinosaur Erotica was actually a real subgenre of fiction (and a popular one at that). Up for the challenge, Shaw decided to give it a go.
DLS Synopsis:
Gark had recently been exiled from his tribe for disclosing an interest in men rather than women. Leaving ones tribe was hard and dangerous, but he had little choice. They'd banished him throwing stones and insults as he left the safety of their community.
Being alone out on the mountainside was a dangerous place to be for any hairless ape. Gark knew this, and knew he had to keep moving if he was to survive.
However, when he's spotted by a huge Tyrannosaurus Rex, Gark realises he has just one option. Hide underneath the beast's colossal body and hope his simple disappearing trick works.
Although the problem with Gark's plan soon becomes evident when the T-Rex happens upon a couple of mating Brontosaurus'. The next thing Gark knows is he's hiding away mere inches from the T-Rex's throbbing erection. And to make matters worse, because of the T-Rex's little arms, the peeping dinosaur can't do anything about his sexual frustration.
Looks like Gark's going to have to step up to the job…
DLS Review:
Literally what the fuck? Dinosaur Erotica is actually a thing?! In Shaw's 'About the Author' introduction/foreword he explains how he came across this subgenre on Amazon, whilst he was researching crazy book titles for the 'Book or Bollocks' game he co-hosts with fellow podcaster Luke Smitherd.
Of course after discovering this strange subgenre, Shaw absolutely had to give it a go. And why not? He's ventured into numerous risqué areas in the past with his work. Dinosaur porn, if anything, seems like the next natural step for him.
The premise is pretty straight forward. You've got a hairless ape called Gark who's been given the boot by his old tribe. Surprisingly Shaw spends a good half of this very short novella setting the scene and subsequently building on our hapless protagonist's backstory.
However, once this is done and Gark's hiding beneath the body of a ferocious but incredibly frisky T-Rex, then the story really starts to come (or should I say cum) into its own. What follows is a downright filthy depiction of a primitive man giving the king of the dinosaurs a handjob, whilst said hairless-ape fantasises about rough anal sex, which soon descends into outlandish ideas of what this dinosaur could do for him (sexually).
It's all incredibly perverse. Think bestiality taken to some weird fucking extremes. Yeah, this is some strange reading my friends. Some might get their rocks off on it, but quite frankly, I just found the whole thing a tad perplexing. Nevertheless it's a damn amusing read.
Not one for everyone. But if you like weird shit, then it's probably worth giving a shot (so to speak).
The novella runs for a total of 15 pages.

© DLS Reviews