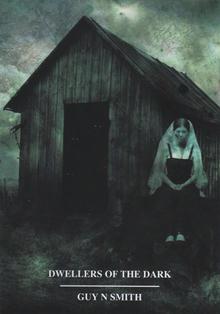 Back in September of 2010, prolific pulp horror author Guy N Smith handed out an exclusive chapbook entitled 'Dwellers Of The Dark' to all of those who attended that year's annual convention. Each one of these short chapbooks was hand signed by Smith on the inside of the cover page. The story was later reprinted within the 'Hangman's Hotel And Other Stories' (2014) collection.

DLS Synopsis:
Guy was getting worried. His assistant - Ceri was late, which was very unlike her usual self. Going out to see if he could spot her, Guy notices her silver Vectra is parked up by the roadside gate. Investigating further, Guy follows a set of muddy tracks that lead from the abandoned car, off towards the nearby pool and a dilapidated storage shed.
And sitting there outside of the shed on an old chair that Guy had thrown out, sat Ceri. Upon finding the girl, the two instantly sense the penetrating evil that is lingering within the shed. Guy immediately takes his young assistant away from the place, not knowing, or caring to know, what it is that is haunting the shed.
The following day he's out there again, this time with his 12-bore, under the premise of hunting for a rabbit. But upon arriving at the shed, he once again sees a young girl sitting in the same seat outside the shed. But this time it's not Ceri. This time it's a girl he doesn't know or even recognise. And the burning eyes from inside the looming darkness of the shed are making their way closer…
DLS Review:
Smith's convention freebie is an incredibly short tale that throws down a quick and immediately atmospheric story involving himself and his real-life assistant Ceri. From the outset the story lays down a thick atmosphere of oppressive evil that seems to cling to each and every sentence.
Characterisation isn't necessary. It's the author and his assistant – two individuals that, having attended the convention, the reader's would have now met. Instead, the short homes in on the mysterious haunting that is taking place.
Smith injects in another one of his passions in life, that of the legendary 'Big Cats' that have been spotted from time to time throughout Britain (see 'Hunting Big Cats In Britain' (2000) 'Caracal' (1980) and 'Maneater'(2009)). Combining this with the lurking evil, Smith pulls off a chilling but somewhat ultimately unexplained short that finishes with much mystery still lurking in the air.
The short runs for a total of 3 Pages.

© DLS Reviews

A B C D E F G H I J K L M N O P Q R S T U V W XYZ VARIOUS NON-FICTION