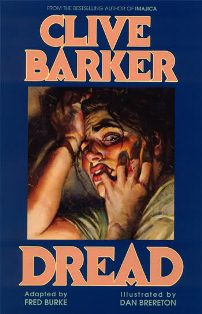 First published back in 1992, the Eclipse Graphic Novel's adaptation of Clive Barker's short story 'Dread' from the author's 'Book Of Blood: Volume Two' (1984) followed on from the 'Tapping The Vein' (1989 - 1992) adaptations of many other shorts from his 'Books Of Blood' series. Indeed, in the 1993 re-printing of 'Dread', the expanded 80 page graphic novel also included the comic version of 'Down, Satan' that was originally included in 'Tapping The Vein: Volume Five' (1992).

DLS Synopsis:
When the fellow philosophy student, Quaid, wondered into the pub and into Steve Grace's life, everything changed. Their friendship was a curious one. Grace admired Quaid's undeniable intellect. But his obsession with the very concept of human dread was bordering on unhealthy. But Grace wasn't the only one to be swallowed up by Quaid's odd draw. The delectable vegetarian student Cheryl Fromm had become emotionally entangled with the man. But what was Quaid getting out of the relationship? Only when Grace was shown the photographs of Quaid secret experiment with dread did it all begin to become clear. Fromm had become Quaid's test subject. Locked away in a room, with nothing but a bucket to piss in and a slab of meat for company, every step of Fromm's horrendous ordeal had been captured. And only when she overcame her dread and consumed the spoiled meat did Quaid declare that the experiment had been a success. But his experiments with dread had only just begun. And Steve Grace was next in line. But some people have their limits…

DLS Review:
With this nasty little tale, Barker plays with the psychology of his two conflicting principle characters, creating a morbidly intriguing tale of phobias and the breaking of one's psychological boundaries. The deep questions lurking behind the story fight for attention from the start, cutting away at the readers nerves with the inherently nasty vibe behind the tale. As the story progresses, so the abysmally downbeat atmosphere smothers the reader, until the intensity of the plot is brought to the breaking point. The dramatic finale feels well-deserved and bone-jarringly impactful, all the way to the last sickening sentence. Gritty and grim…this is a fierce first story to the volume.

Fred Burke's graphic novel adaptation of Clive Barker's 'Dread' is pretty darn spot on. The pace is a steadily snowballing affair, with the tension that was so present in the original short, brought over into the illustrated version. It's this escalating gritty suspense that really pushes the tale along. And Burke has done a great job in slicing the original story down to a frame-by-frame format, without the pace ever stuttering along. Furthermore, Brereton's illustrative artwork captures the downtrodden mood perfectly, using string bold colours that chisel out the characters' movements, whilst often utilising a more guttural and dirty palate of colours.

The graphic novel runs for a total of 60 pages.

© DLS Reviews

A B C D E F G H I J K L M N O P Q R S T U V W XYZ VARIOUS NON-FICTION