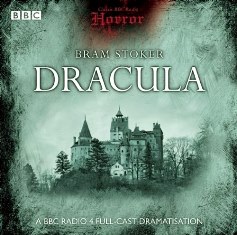 First broadcast between December 1991 and January 1992, Nick McCarty's full-cast radio dramatisation of Bram Stoker's classic horror story '
Dracula
' (1897) was broadcast over seven episodes for BBC Radio 4. In October of 2010, the BBC's audiobook arm, AudioGo, released the entire radio production on a 3 CD set.
DLS Synopsis:
Leaving behind his young fiancé, Wilhelmina Murray (better known as Mina), Jonathan Harker travels to the remote castle of his first major client, located in the Carpathian Mountains of Transylvania. Having only recently qualified as a solicitor, Harker is nervous about this first posting, providing legal support for a real estate transaction on behalf of his employer's wealthy client – the Count Dracula.

Upon arriving at the impressive but equally foreboding stone castle where Dracula resides, Harker is made to feel well cared for by his gracious but decidedly unnerving host. But gradually the feeling that he is in fact a prisoner in the ancient castle begins to creep over the young solicitor. Dracula continues to maintain a face of hospitality, but Harker is now in the full knowledge that he is a captive to the whims of the Count.

Equally as distressing are the nocturnal excursions that Harker has witnessed the Count embarking upon. And so, even against the explicit instructions not to leave his room at night, Harker decides to venture out into the silent stone corridors of the castle in the hope of finding a way out of his prison. But Harker soon learns that he and the Count are not alone in the castle after all. That night Harker comes across three seductive young females, who instantly throw themselves over the young solicitor. But they have a terrible bloodlust in their eyes, and Harker has unknowingly stumbled into their lair. But before the three vampyric sisters can feast upon their newfound victim, Dracula bursts in, pulling Harker out of harm's way. And so in sheer desperation, Harker finally manages to flee from the Count's remote castle, and runs off into the night.

Not long after Harker's escape, a Russian ship runs aground on the fierce shores of Whitby. The ship appears empty, the crew nowhere to be seen. Furthermore, the cargo seems worthless – crates of dirt shipped from Transylvania. The only life aboard the ship being the fleeting glimpse of a black dog seen leaping from the ship as it hit the shoreline.

Not before long, Dracula's presence is being noted in England. Harker's beloved fiancée Mina and her close friend Lucy Westenra soon find themselves within the Count's sights. And then, after having accepted Arthur Holmwood's hand in marriage, Mina's friend Lucy quickly starts to show signs of a terrible illness. Weakened and barely maintaining consciousness, Lucy's friend Dr John Seward calls for the help of the great Van Helsing.

Upon arriving at Lucy's bedside, Van Helsing recognises the symptoms straight away. But he keeps his fears to himself for now, and instead takes drastic measures to try to revert the girl's terrible condition. But no amount of blood transfusions can save the poor young girl. For the disease is already in her blood. And soon enough, she will undoubtedly return as a bloodthirsty creature of the night...
DLS Review:
Bram Stoker's original story is undeniably an absolute classic piece of literature. It's one of the undeniable cornerstones of the horror genre, and its haunting story remains as creepy and terrifying today as it did when it was first written. As such, there has been a veritable abundance of adaptations and dramatisations over the years since its original publication. Many of these have seen the story change quite dramatically, the characters loose much of their original selves, and Dracula often becoming a suave and sometimes hammy anti-hero. This however is not the case with Nick McCarty's radio dramatisation.
In Stoker's original, the story is mostly presented to the reader via a series of journal entries and letters exchanged between the characters. This format allows for a great deal of narration, which can set down the events as they transpired without too much difficulty. McCarty has instead chosen to tell the story through character dialogue alone – making for a quite a bold difference with the overall structure compared to the original tale.
Indeed, in order to tell the story, McCarty often has to fall back on the characters detailing past events through dialogue-driven flashbacks. This at times makes the storyline seem like it is jumping back and forth, with an inconsistent and vaguely disjointed feeling to the story rising to the surface from early on. That said, after a while the listener does start to become accustomed to the structuring tool that McCarty has adopted; however the storyline remains just that little bit harder to keep track of than it perhaps should, for most of the presentation.
Accordingly, you certainly couldn't say that McCarty's adaptation is all that faithful to the original text, with its different format and vastly modified structure making the most noticeable difference. However, there is nevertheless quite a true representation of what happens within the tale underneath its changed delivery. Scene by scene, McCarty's radio dramatisation follows the events from Stoker's original text reasonably closely; only deviating from the original because of time constraints and/or where the new format causes slight delivery issues.
On the whole the reasonably extensive cast that McCarty employees for his dramatisation, offers up quite a solid and believable performance. Indeed, Bernard Holley's performance as Jonathan Harker is engaging and full of vigour for the role, as is Phyllis Logan's role as Mina and Sharon Maharaj as Lucy. Furthermore, there are a number of far smaller roles in the dramatisation for which the performance is equally excellent. For example, the early scene involving Hraker and the vampyric sisters is superb; with Dracula's brood creating a truly nail-biting yet devilishly-seductive scene.
However, it's not all good news regarding the cast's performance. German-born actor, Frederick Jaeger, delivers a decidedly lukewarm performance with his role as Count Dracula. Indeed, far from convincing, through much of the production Jaeger's attempts at delivering a powerful and menacing representation of the Count ends up sounding far too exaggerated and without much actual effort at making the story's principal antagonist the full-bodied vampyric monster that Stoker had originally envisaged.
Although the original production was recorded and broadcast as seven separate episodes, the audiobook version runs as one continuous story, without any breaks splitting up the episodes. Furthermore, each of the three CDs starts from exactly where the last CD concluded; allowing for no obvious breaking points for the listener. Although this makes for an ideal presentation for listening to in just one sitting; with the total time of the dramatisation lasting for a good 3 hours and 20 minutes, this doesn't make for such a good audiobook for listening to in a number of shorter sittings (which let's be honest, is more often than not the case).
For its swift and daringly original approach at trying out a new delivery, McCarty's radio dramatisation is certainly worth a listen. There's much to like in there – such as the atmosphere-enhancing sound effects (seagulls cawing, horse hooves clomping along cobble roadways, vast waves crashing, the wind howling etc). However, these factors alone don't save the production from a number of less than impressive performances. Frederick Jaeger's Dracula is a real disappointment, as is Paul Birchard's completely overdone (and downright cheesy) Quincy Morris.
All in all the presentation has its moments. And the areas where McCarty has abridged the tale don't feel too sliced-and-diced. Admittedly some scenes do seem to arrive (and then be over with) much quicker than they should – but there is always going to be some time limitations causing this with dramatisations for the radio. And to be fair, McCarty has managed such moments well.
The radio production runs for a total of 3 hours and 20 minutes, split over 74 tracks on 3 CDs.

© DLS Reviews

A B C D E F G H I J K L M N O P Q R S T U V W XYZ VARIOUS NON-FICTION