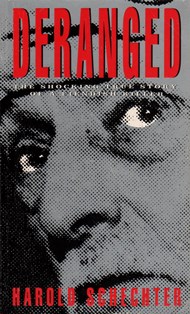 First published back in October of 1990, Harold Schechter's book 'Deranged' was the true crime writer's second publication, after his previous title 'Deviant' (1989). This particular book dealt with the life and crimes of one of America's most notorious serial killer – Albert Fish.
DLS Synopsis:
On 25th May 1928, eighteen-year-old Edward Budd put a classified advert into the paper looking for work. Responding to the advert, an elderly man who introduced himself as a farmer named Frank Howard, visited the Budd family at their home in Manhattan under the pretence that he wished to offer Edward a job. The family instantly took to the friendly nature of Edward's potential new employer, and upon the kindly old man's second visit to the family home, agreed to him taking their ten-year-old daughter, Grace Budd, to a birthday party that was apparently being held at his sister's home. Grace was never seen again.

Seven years later, and an anonymous letter addressed to Grace's mother, Delia Flanagan, arrives in the post. In the letter, the writer tells about how he was motivated to try human flesh. The author of the letter then describes in detail how he had arrived at the Budd household, deceived the parents, and then took young Grace away with him to an empty house in Westchester, where he choked her to death, cut her up into pieces and later consumed the flesh. Clearly hoping to add some degree of comfort, the author signs off the letter stating that Grace died a virgin.

As harrowing as the details within the letter were, much, if not the entirety of what was stated would later be revealed as true. The only questionable detail being whether or not Grace Budd was indeed raped during the horrifying ordeal.

After a tireless investigation took place, fifty-eight-year-old Albert Fish was eventually arrested, whereupon he instantly confessed to the crime. But as the interrogation of the elderly man progressed, it soon became apparent that Budd was not the only child to fall victim to Fish's sadistic perversions.

As the questioning went on, and Fish's past was gradually revealed, one of the most perverted, sadistic and deranged psychopaths that the world has ever seen was uncovered. Before them was a man who was bragging of a lifetime of murdering. A man who took sadistic delight in performing the most heinous acts of cruelty. A man who took pleasure in inflicting pain both on others and upon himself. A man who would stop at nothing to satisfy his outlandishly deranged urges.

One of America's most notorious serial killers had been unveiled. And it would prove to be a case that would shock the entire world...
DLS Review:
Okay, so if you know anything at all about Albert Fish then you know that this book's likely to be pretty hard going. What Fish did over the span of some fifty-odd-years is perhaps the most shocking and sickening true crime stories that you're likely to come across. And it's always going to be hard to swallow the details of the crimes as they're relived in a book like this.
However, what Schechter has managed to do is offer up a book that not only presents what we know as fact about Fish and his disturbing actions (inflicted on himself and others), but also brings to the table suggestions towards other crimes that Fish may well have been involved in as well. And Schechter provides all of this in a chronologically documented and well-paced fashion – reading almost like a tightly-structured novel.
Interestingly, the first third or so of the book hides away from the gruesome details of Fish's atrocious actions. Instead, Schechter lays down the nerve-chilling facts surrounding the child abductions; portraying the events leading up to the disappearances with an equally disturbing clarity.
Throughout the entirety of these early chapters, the tension and pace is maintained with an enthralling urgency. Indeed, whilst Schechter re-enacts these moments in his book, the reader will of course know who will ultimately be responsible for the abductions. You know that this kindly old man is in fact one of the most despicable monsters to have ever lived – however, even with this in mind, Schechter manages to keep an air of mystery and suspense lingering.
And then Fish is caught. Now, what quite often happens in true crime books is that the following portion of the book takes on a much slower pace; the court proceeding sucking out any lingering memory of the gripping energy and horror that was achieved in the previous section of the book. But not so here! Far from it actually. Instead Schechter actually manages to crank up the shock value for this second half of the book. It's here, in the courtroom under the challenging skill of Fish's attorney, James Dempsey, that Fish's horrific actions are revealed to all. Kidnapping, torture, paedophilia, cannibalism, coprophillia, sadism, the list is endless. Fish was a pervert and a monstrously dangerous sexual predator of the vilest kind. And it's as we go through his history in such dissecting detail, that the real horror of what Fish was is unveiled.
Utilising this almost back-to-front structure to the book, Schechter has managed to create a powerfully emotive atmosphere to the whole book that reads incredibly well. Schechter's obvious in-depth research into Fish has enabled him to bring together a tightly stitched picture of the man's life. Yes there are still gaps, assumptions, and questions that will always go unanswered. But the overall tapestry of his life, presented with this abundance of information, is where the book really comes into its own.
The possibility that Fish may have abused tens if not hundreds of children, year-after-year, until he was eventually caught, is one of the most unnerving aspects of the book. Schechter brings up claims which Fish had made whilst in questioning. Details about a number of other crimes, which brings up the possible question of Fish's involvement with two particular kidnappings from 1924 and 1927.
The book's final few chapters bring together all the important facts that are known about Fish, along with the other possible crimes that he could well have been responsible for. A hauntingly clear picture has now been painted showing a kindly-looking old man who we now know as being one of the most cruel and despicable monsters to have ever lived. His atrocious and heinous actions are beyond comprehension. The question of his sanity, for which his entire defence was based upon, is one which keeps clawing away at the reader. After reading everything that this man had done (let alone the other crimes that there's some reasonably persuasive evidence connecting him to), it's hard to think that he could ever be classed as sane. And with the psychological evidence of the man's sanity presented – it was always going to be a tough call to make with absolute certainty.
The book includes eight glossy pages of black and white photos depicting (amongst other similar things) Fish at various times after his arrest, Grace Budd and her family, the Wisteria Cottage (where Fish murdered Grace), and an x-ray showing the twenty-nine needles that Fish had inserted into his pelvic region.
The book runs for a total of 306 pages.

© DLS Reviews

A B C D E F G H I J K L M N O P Q R S T U V W XYZ VARIOUS NON-FICTION