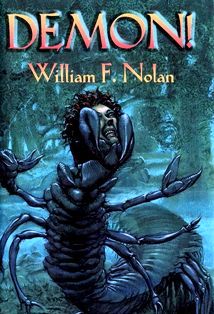 First published (in standalone format) back in November of 2006, US author William F. Nolan's novella 'Demon!' was released by Delirium Books as a limited edition signed hardback, limited to 250 numbered copies. The story first appeared within the "Special William F. Nolan Issue" of Weird Tales – 'Weird Tales: Issue 302' (1991), under its original title 'Broxa'. The story was later re-released as the second story within the David Kincaid omnibus 'Kincaid' (2011).
DLS Synopsis:
Despite being a paranormal investigator, thirty-one-year-old David Kincaid wasn't a fan of horror films. Which is why, when Kelly invited him along, he didn't exactly jump at the chance of attending the premiere of the new Lucas Appleton film 'Demons By Darkness'. Nevertheless, being a dutiful boyfriend, David agreed to go along with her.
The last thing he was expecting from attending the premiere was to receive a job offer. Especially from one of the film industry's top producers, none other than Lucas Appleton himself. However, that's exactly what happened.
The following day Kincaid finds out the details of the job. Appleton wants the paranormal investigator to track down a young girl named Justina Phillips who appeared within the film 'Deadly Earth' that was filmed some three years ago. Appleton saw something in the girl and now wants to make a star of her.
However, it appears no one knows where Justina is. Her parents haven't laid eyes on her since she left home at fifteen right after doing the bit part in Deadly Earth. Her unloving parents clearly didn't give a damn about Justina then or now. The day she left home was when they'd told her the truth. Justina had been adopted. And it appeared discovering she was no blood relative to the Phillips finally freed her to go.
For Kincaid, tracking down eighteen-year-old Justina Phillips was proving increasing difficult. No one seemed to know where she was or cared much about her wellbeing. The search would eventually lead Kincaid across South California and beyond, with the paranormal investigator needing to pull on all his contacts and connections to find the girl.
But there is more than just a runaway girl at play here. There is something dangerous about Justina's birth mother. Something that terrified all those who came into contact with her. Something in her eyes. And all Kincaid's investigations seemed to be leading back to her…
DLS Review:
In his two page 'Author's Preface', author William F. Nolan talks about his affection for both horror and hardboiled fiction. The culmination of both is what we see in perfect union here. A hardboiled detective thriller with the roots of the investigation leading to a demonic horror. Admittedly the story feels very much of its era. A sort of Stephen Gallagher's 'Valley Of Lights' (1987) vibe, that we've enjoyed in numerous other novels, TV shows, and films of that period. Of course, the clear dating of the tale isn't by any way a detracting factor. Instead it adds a degree of authenticity to it. Makes the story feel justifiably of its time.
The tale is a moderately paced offering, with the lion's share given over to the gradually unfolding mystery of where eighteen-year-old Justina Phillips is, and why some hotshot Hollywood producer wants to get in contact with her so much. For this we see our protagonist – paranormal investigator David Kincaid – racing around and chatting with various people who were in some way connected with Justina at some stage in her life. Although not exactly bubbling over with high-octane action, these particular pages of the investigatory plot maintain a degree of intrigue that manages to keep the momentum of the tale going.
Where a great deal of the story's strength rests is with the protagonist - David Kincaid. It's only a novella of some 20,000 words, however, Kincaid makes a solid impression upon the reader in this time. The character had previously appeared in the tale 'Pirate's Moon' which was published in the anthology 'Murder In Los Angeles' (1987), however here Nolan still fleshes him out nicely, with some masterful but subtle characterisation, along with a variety of Kincaid's own connections and friendships to pull from.
With Kincaid it's hard not to see similarities with James Herbert's David Ash. Their professions are similar, as are their hard-boiled attitudes. Although Kincaid isn't anywhere as much of an alcoholic, rough-around-the-edges antihero as Ash. Nevertheless, they clearly shared the same cot.
In fact, Nolan obviously saw the lasting appeal in his protagonist, and so returned to Kincaid again with the novella 'The Winchester Horror' (1998). Furthermore, some twenty years after 'Broxa' was first penned, Nolan released his omnibus 'Kincaid' (2011) which contained all three stories. Interestingly, this was just a year prior to Herbert's 'Ash' (2012) being released (spot the similar themed titles for the two books).
Other than the investigative thriller aspect, as previously mentioned, the novella draws on some pretty top-notch demonic horror. Early on we're treated to a heart-pounding sequence with Justina's birth mother – Leona Stoddard – transforming into a vicious insect-like beastie. The scene is expertly paced, with a mixture of pulse-racing urgency and tightly written descriptions of the demonic creature, creating a truly memorable moment in the tale. Indeed, for this standalone release of the novella, the artwork that adorns the cover is taken from this particular nightmare sequence, illustrating the grotesque insectile demon described perfectly.
Throughout the tale it feels like it's constantly driving towards a grand finale…the big showdown with whoever (or whatever) is ultimately behind this whole demonic legacy. Nolan doesn't disappoint with delivering this wrapping-up, action-heavy conclusion. It's a proper old school head-to-head confrontation, with a nicely executed twist that slips into the novella's formation with a well-planned ease.
If you're looking for an all-out horror story, possibly suggested by the glorious cover art, then you may be a tad disappointed with the lack of such in the tale. It's probably around four-fifths thriller to one-fifth horror. But the balance works well, complimenting the escalating momentum of the piece nicely and ultimately delivering a compelling and entertaining hardboiled horror-cum-thriller.
Absolutely recommended for a single-sitting lazy afternoon read.
The novella runs for a total of 96 pages.

© DLS Reviews