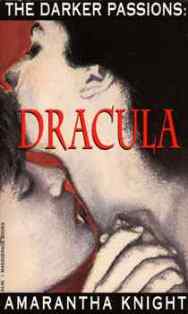 First published back in December of 1993, US author Amarantha Knight's (aka Nancy Kilpatrick) first instalment into her Darker Passions erotic horror series was entitled 'Dracula: The Darker Passions'.
The book has since been re-released by MHB Press in November of 2010 in three different limited edition formats:
Collector's Edition (300 signed and numbered copies) - The book is bound in Colorado Book Cloth with a sewn book block, head/tail bands and a bound-in ribbon book mark. The pages themselves are 115 gsm matt coated paper which gives the book that added luxurious weight.
Deluxe Edition (150 signed and numbered copies) - The book is handmade, quarter bound in red goat skin leather with handmade paper covered boards, including additional colour artwork and issued in a special handmade cloth covered slipcase.
Lettered Edition (26 signed and lettered A-Z copies) - This ultra-luxurious edition is handmade, fully bound in red goat skin leather with gilt edges and handmade marbled endpapers, including additional colour artwork and comes in an extra indulgent handmade traycase.
The MHB Press re-release includes new cover artwork by Ben Baldwin (collector edition) and a small number of black & white illustrations, all by illustrator Lara Addams.
DLS Synopsis:
Jonathan Harker is young and deeply ambitious. Two character traits that have pushed him with his work within real estate. And so when he hears of a wealthy Count in Transylvania named Count Dracula who is looking to purchase some additional property, Harker travels all the way from his home in England in order to provide the Count with the necessary legal support that he will require.
Upon arriving at the gothic castle that is home to the Count, Harker is granted access to the vast majority of the medieval premises. And so, Harker takes to the many stone corridors and spiralling towers to explore the impressive interior of Castle Dracula. And what he finds takes his breath away. A room with walls covered in implements of torture. Vast arrays of whips and shackles, spikes and gags. A collection that has spanned decades. And within that very room is where Jonathan Harker first encounters the Count's three wives.
Although Harker is a recently married man to his wife Mina who is awaiting his return back in England, he still however finds himself quickly seduced by the Count's first wife Magda. Before long the two have given in to their lustful desires and are engaging in some very carnal acts. But Magda's desires quickly build towards the almost inevitable bite to her lover's jugular vein. A bite that will change Harker's life forever. A bite that is thankfully stopped at the very last second by the sudden arrival of their Master – Count Dracula.
Dracula realises that he has failed to maintain his dominating role over his wives, and so begins to re-establish his domineering role straight away with Magda. However, Harker finds himself also at the heavy hand of a number of sadistic yet darkly pleasurable punishments, whilst also baring witness to as well as forcibly administering strong levels of punishment onto Magda. Punishments that quickly veer towards the sexual.
Meanwhile, Jonathan's wife Mina has gone to stay with her long-time friend Lucy Westerna who she learns has taken on the affections of three young gentlemen – Arthur Holmwood, John Seward and the American Quincy Morris. Whilst staying with Lucy, Mina discovers that Lucy takes to regular sessions of kinky sadomasochistic sex with all three young men. Mina is shocked, but slowly begins to also succumb to her dear friend's lascivious behaviour.
Back in Transylvania and Jonathan Harker has managed to escape the grasp of the overpowering Count Dracula. Now on the run, Harker manages to get some distance away from Transylvania before he finds himself at the door of a mysterious monastery. Here, Jonathan is subjected to long sessions of torturous punishment and sexual gratification with the many fellow monks and the monastery's leader.
And whilst Jonathan's soul is being cleansed by performing and succumbing to the will of the monastery's leader, Count Dracula has travelled to England to locate Jonathan's wife Mina. Time is short for Jonathan to return to his previously repressed wife and save her from the persuasive power of the Count. Moreover, Lucy has become entangled in the darkly possessive powers of the Count. Perhaps even the great Professor Van Helsing can no longer save the women from their own dark passions…
DLS Review:
The first thing that needs to be stated about Knight's 'Darker Passions' books are that they are very much geared towards the erotic rather than that of horror. Indeed, if you were to strip away all of the heavy sexual elements to the tale, you really wouldn't be left with much of a story afterwards. What there is of a basic plot is sliced away from the framework of the classics that Knight is playing with - in this case Bram Stoker's novel 'Dracula' (1897).
Knowing the story of 'Dracula' (1897) does help to address much of the basic timeline that is utilised within the tale. However, this is merely padding for what is really just an otherwise unremarkable journey into the hazy sex-crazed shenanigans of a piece of graphic erotic fiction.
Yes the characters are all there (well the principal ones at least). But the characterisation is tackled in a very different manner to the classic. Instead, Knight spends the vast majority of the book dissecting the true inner desires of the characters, exposing their inherent wants for punishment and their conflicting emotions surrounding this.
Indeed, punishment is very much the overbearing theme of the novel. Throughout the entire length of the book, spanking, canning and other such punishments on the characters' posterior take precedence. The sheer volume of the text that deals with administering this particular style of S&M punishment is quite astonishing. Barely a page goes by without some graphic display of spanking taking place at least once.
Knight maintains this S&M dominant theme throughout the length of the tale, playing around with the different characters' experiences of these lascivious acts. However, after a while, the sheer repetition becomes quite boring for the reader, with the graphic descriptions of the fetish play losing almost all of its impact.
However, this is partially rescued by the bizarrely surreal scenes that Jonathan Harker is subjected to within the strange European monastery. From here, the book takes on a sudden and quite stark engagement with homosexual acts, which together with the dreamlike premise; make for a deeply atmospheric stage within the otherwise level-planed tale.
The finale is rather weak and abrupt. The two principal storylines that have run parallel throughout the novel, don't ultimately meet or merge together, but are instead individually signed off with a very half-hearted effort. Yes there are plenty of lewd sexual acts involved in their conclusions, but nothing with any final bite to really finish the tale off with.
The novel runs for a total of 277 pages.

© DLS Reviews