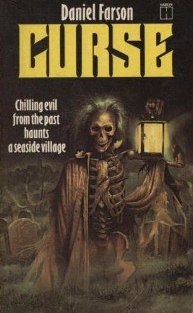 First published back in May of 1980, British author Daniel Farson's novel 'Curse' was one of many different projects that the author embarked on in his later career. Not only was Farson a writer, but also a broadcaster, television personality, public figure, close friend of artist Francis Bacon (who Farson later wrote a fully authorised biography on) and a great-nephew to none other than Bram Stoker – author of the classic horror novel 'Dracula' (1897). An alcoholic in his later years, Farson sadly died of cancer in 1997 in his father's house in Devon.
DLS Synopsis:
After his wife's untimely death, Dick Truscott decides he needs to start up a whole new life for himself and his daughter – Anne. And so after scrapping together the funding, they move to the quaint fishing village or Horracombe in the picturesque setting of Cornwall. There, Truscott is to become the new landlord of a smugglers' inn – The Prince.
Upon arriving into Horracombe with his daughter and her new found love – a rude young lad named Harry Bolton - they quickly set about fixing up the somewhat dilapidated inn. News of The Prince's new proprietors quickly spreads across the village, with a mixed reaction from the locals. And soon enough, Truscott meets the man who is the reason behind much of the current bad feeling. A rich American tycoon named Kellogg Banks who is constructing a grand marina in Horracombe. A marina that the locals are strongly against.
Thrown into the thick of a major dispute affecting the whole of the community, Truscott struggles to maintain any reasonable level of custom with his unfortunate predicament of choosing sides. And of course, it's not helped with him being classed as a measly 'foreigner'. But must disturbing of all is the recent spate of unlikely accidents that keep happening around the village. Accidents that are not only proving to be fatal each time, but also of the most unlikely of nature.
Furthermore, following repeated visitations from a ghost like presence, Truscott unearths an age-old corpse concealed behind a fake-wall within The Prince. The mystery of the corpse and its few prized possessions is as puzzling as the mystery of why the vast majority of the communities forefathers departed the village en masse back in 1780. No records from that time remain, and the secret lies hidden with the locals. A secret so pitiful that none speak a word of it.
Somehow it's all connected. And the tragedies won't end until the curse has been fulfilled…
DLS Review:
The novel is certainly a slow starter. Don't get me wrong, it's by no means a tedious beginning to a novel, but more a gradual building up of the plot, premise, the characters and the location. With such an elaborate and intricate plot and collection of subplots, Farson puts in a wealth of time into initially getting this principal storyline on track. This results in this slightly uneventful beginning, which instead spends chapter upon chapter in setting down the ins and outs of the whole premise.
Characterisation is very hit-and-miss throughout the length of the tale. Some characters are fleshed out with the skill of a masterful writer. Others remain mere names with barely a personality to their presence.
Farson draws upon a whole host of these characters from across the length and breadth of the village – setting down numerous intertwining subplots and interesting interactions (and clashes) between the characters. Perhaps too character rich and expansive with the various subplots, the tale does seem to lose much of its principal momentum, with its main direction becoming vague and meandering from early on.
Farson clearly has a good solid writing ability at his disposal, calling upon a whole array of vivid haunting descriptions whilst laying down thick layers of evil atmosphere where suited. Although the 'evil threat' is never fully realised to the extent that the reader would have hoped (or imagined from the glorious cover artwork), the supernatural mystery behind the tale does keep together a thoroughly enjoyable and gripping tale.
The story throws in a number of suggestive influences, with an early on scene showing blatant similarities to that of William Peter Blatty novel 'The Exorcist' (1971), as well as a tourist event that plays out like that from Peter Benchley's novel 'Jaws' (1974). Throw in a Scooby Doo style of mystery, along with some anti-newcomer locals from the likes of 'An American Werewolf In London' (1981) or indeed 'The Shadow Over Innsmouth' (1936), mixed with a plethora of accidents and the odd haunting, and you're pretty much there.
The tale ends on a 'from out of nowhere' finale that seems to cram a whole ending into just a few dramatic pages that purposefully stamps its concluding-authority on the tale. The ending, although dramatic in itself, is still somewhat of a let-down, with much of the curse just left to self-explain and peter itself out. This is a shame after the intricate involvement that Farson managed to achieve with the run up to this near blink-and-its-over ending.
However, all in all the tale is still an enjoyable and captivating one, with plenty of intrigue and bizarre mystery surrounding the storyline to keep the average horror reader happy.
The novel runs for a total of 241 pages.

© DLS Reviews