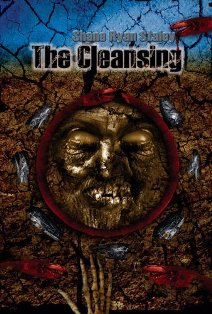 First published back in July of 2005, Delirium Books' founder and editor-in-chief Shane Ryan Staley's novella 'The Cleansing' formed the US author's first substantial publication other than through short story collections.

DLS Synopsis:
For Chris Tyler, watching his father die was about as painful as it comes. The cancer had finally gotten a hold on him. Now he was lying right there on a hospital bed, Tyler holding him as he succumbed to the endless darkness. But one last touch between the two lingered on even after his heart gave out. One last memory of him, leaving a lasting mark on Chris Tyler's arm.

From that moment onwards, Chris Tyler's life changed. Haunted by nightmares always involving his dead father, Tyler begins to come to the conclusion that maybe he was being told he had to do something. A dark figure, a feeling of deep regret, and an endless pitch-black. And those chilling words spoken to him by his father - "I tried to kill it, but it wouldn't go away".

Dwelling on the vivid memory of his dreams, Tyler decides that it has to be a vision, and the key to it all is at his father's campsite – Whisper Ridge Campgrounds. A lot in a long forgotten campground which Tyler's father left to him in his last will shortly before he died.

And so, knowing that something was drawing him to the secluded and desolate campground, Chris Tyler packs up a few essentials and leaves his home to spend some time staying at his father's old camper. A trip back to a place where he hasn't set foot in many years. But somewhere where he is being expected.

Having fought in Vietnam, Chris Tyler's father had witnessed countless horrors that had plagued his traumatised mind ever since. Nightmares that he would do anything to get rid of. And so, when he and his ex-service friends found out about a bloodletting ritual that could be performed on the land, one that would supposedly cleanse the soul, Chris' father, Gary Beck, Patrick McClure and Michael Mason, made a pact together to give it a go. A decision that they soon learned would hang over the rest of their tainted lives.

And now that Chris Tyler had returned to his father's lonely plot, he was finally learning about the cleansing ritual that his own father had performed in his utter desperation. Sitting around a campfire with Gary Beck and his daughter Audra, Chris listens to the horrifying story of the cleansing ritual that they had performed all those years ago. A ritual that later saw them all getting sick; each one of them at the exact same time. A sickness that they were to learn couldn't be cured. They all had developed the exact same type of brain cancer.

But Gary hadn't just told Chris about the ritual. He hadn't just opened up and exposed their dark and regretful past. He had done something much worse. He had shown Chris how to perform the cleansing ritual. And now it was too late. The sacrifice had once again been made. The leech had taken its blood, and now it was time to pay for meddling with God's formula.

From their misguided actions, a malignant evil has squirmed out into the world, and is spreading its swelling corruption as it starts to breed. Time is running out for mankind, as the squirming evil makes its way into our existence and commences its destructive reign of terror…

DLS Review:
Written in the first-person-perspective of our principal protagonist, Chris Tyler, the novella sets out on a deeply sombre note as Tyler attempts to comfort his dying father on his deathbed. From here on, Staley maintains a dark and menacing cloud over the rest of the tale; wallowing our narrator in a pool of endlessly oppressive misery, with his nightmares offering the only suggestion of a way to overcome it all.

From this downbeat beginning, the storyline gradually picks up pace, with Tyler's arrival at Whisper Ridge Campgrounds sparking off the spiralling madness that is to follow. Admittedly, Staley seems a bit apprehensive to dive straight into any bouts of horror at first, and instead spends quite some time ensuring the right atmosphere is set in place before unveiling the bloodletting ritual and long lost passages from the 'Book Of Eclipse'. Indeed, once Staley does get down-and-dirty with these surprisingly twisted elements, the novella takes on a whole new level of horror. Staley inserts his own pages into the Christian Bible, unashamedly fabricating additional apocalyptic passages within his 'Book Of Eclipse' which make mention of a terrifying 'Unnamed One'.

At this point, what had until now been a moderately-reserved slow-burner, quickly starts to escalate its spiralling tentacles of horror until all hell breaks loose. From sitting around a campfire talking about the cleansing rituals performed in the past, the novel escalates to absolutely goliath proportions in the space of a handful of pages, until mankind is on the brink of utter Armageddon, with just forty-or-so pages left to see it out with.

For a short tale of this nature, Staley (quite rightly) forgoes getting too immersed with the fundamental ideas that are behind his corruption of the Christian story. Instead he skims over the basic principles surrounding his reworking of 'Good & Evil', and then lets the story do the rest of the talking. The end result is a chaotic depiction of a rising hell on earth, with an apocalyptic finale on truly biblical proportions.

Characterisation remains relatively light and easy-going, which again fits in perfectly with the short length of the novella. And with a reasonably strong idea lurking behind the tale's plot, the end result is a tight and well-paced tale, with plenty of substance, but not too rushed and overbearing with detailing these fundamental ideas.

All in all Staley's novella is a testament to how much you can cram into a reasonably short novella without it becoming just a mind-numbing dump of ideas. Although the pacing during the first half of the novel is somewhat reserved, the attention given to building up tension and laying down an eerie atmosphere manages to keep the reader's interest thoroughly alive. And then when the apocalyptic second-half of the tale commences, the action and drama simply explodes, carrying the novel to a tight and satisfying conclusion.

The novella runs for a total of 138 pages. The book also includes a five page introduction titled 'Nothing But Evil: An Introduction To The Cleansing' by fellow author Jeffrey Thomas, whose praise for Staley's 'The Cleansing' is thought-provoking, insightful and wholly justified.

© DLS Reviews

A B C D E F G H I J K L M N O P Q R S T U V W XYZ VARIOUS NON-FICTION