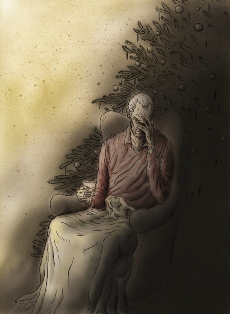 First published back in January of 2012, British author Simon Kurt Unsworth published his short 'Christmas Eve, 5.24pm' on the 'This Is Horror' website (www.thisishorror.co.uk) as part of their 'Flash Fear' free online contributions.
DLS Synopsis:
He sat downstairs at the table, cradling a glass of red wine and listening to the dull thumping sounds from directly above them. The woman he was sitting with started to rise, but he said not too. Elise would have only forgotten that he had merely just been up and seen her. Her memory was the problem. Over the years it had deteriorated to almost nothing. Just like her frail body had. And so she lay up there, bedbound and lonely. Crying out for him to come to her, again and again and again.

After all, he loved her. He'd do almost anything for her. But still she continued calling for him. Endlessly calling and banging. Even now...
DLS Review:
Titled 'Christmas Eve, 5.24pm', it's pretty easy to guess the timing of Unsworth's creepy little tale. The short starts out piecing together snippets of what's going on, already stitching together a chilling atmosphere where something just doesn't feel quite right. And indeed it's not! Unsworth masterfully sends icy fingers of worrying doubt down the reader's spine; the elderly-person-in-distress situation that is taking place feeling decidedly devoid of any immediate rescue. And it's this uncurling sense of worry that Unsworth employs and develops upon for all its worth. That is, until the twist ending hits the reader with the unveiling of a terrifying revelation. And good god does it work! Oh yes it most certainly does.

© DLS Reviews

A B C D E F G H I J K L M N O P Q R S T U V W XYZ VARIOUS NON-FICTION