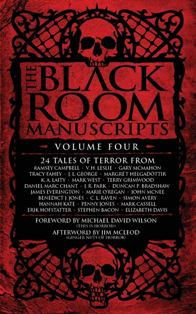 First published back in October of 2018, The Sinister Horror Company's charity anthology 'The Black Room Manuscripts: Volume Four' offered up another twenty-four gloriously gruesome short stories by some of the very best up-and-coming, as well as well-established, names in the horror genre. This final volume was the last book in the highly-revered 'Black Room Manuscripts' series.
Foreword – Michael David Wilson – 5 Pages
Michael David Wilson from 'This Is Horror' (
www.thisishorror.co.uk
) introduces the anthology with a brief look at the various subgenres within horror, how they often crossover, the stigma frequently associated with our chosen genre, and finally the true literary merit in horror. Wilson makes particular references towards the varying cover art for Anne Rivers Siddons' novel 'The House Next Door' (1978), as well as throwing in sporadic recommendations for us to take away. It's a quick-fire foreword, standing up for horror whilst delivering notable examples of its diversity and literary strengths. Job done.
Prologue – Tracy Fahey & J.R. Park – 4 Pages
Dave woke screaming in the hospital bed once again. He told himself it was just a dream, but couldn't shake the feeling that he was wrong. He wished he knew which side of waking he could believe. But the memories of the dreadful tentacular horror he'd witnessed aboard the spacecraft still haunted him. It crept into his dreams, and slithered into his waking hours. Furthermore, the woman constantly staring across at him from Bed 3 made the uncomfortable situation that much worse…
The opening half of Fahey & Park's 'Prologue & Epilogue' to the anthology is a strangely elusive piece of clandestine horror. It's bursting with uncertainty from the mystery of what is behind this deeply troubled man's nightmares and the horror he witnessed whilst working on the hull of the S.C. Canute spacecraft. We're given hints. Small nuggets to ponder. However, nothing on any definable substance is really revealed during this initial half of the story. Yet, at the same time it manages to suck you into the split tale. And things don't get any clearer as we reach the end of the prologue. If anything, the mystery expands further. Attention captured. Anticipation for escalating horror achieved. This is how you open a horror anthology. It's an honest-to-god monolith of unfurling dread, created to bookend the terrors to follow.
That Thing I Did - Tracy Fahey – 12 Pages
The day Philip found the dead body of his good friend Andy, slumped over his kitchen table, was the day that Philip's life fell apart. Beside the body was an envelope with Philip's name on it. Andy's final words, left for his friend to find. Since that day, Philip retracted into himself. Anger coursed through his veins. Anger that the overwhelming sadness he carried with him, could not defuse. When you lose a lover, the world makes exceptions for you. But when you lose a friend, particularly when you're a man, and that friend is a man, then that's different. Everyone's embarrassed by your sadness. No one wants to talk about it. No one wants to help. No one seems to care…
Horror isn't always about beasts and ghouls and things lurking in the shadows. Horror is a base reaction. An emotional response to a deeply-emotive situation. So when you're confronted with a story that's horrifying because of the emotional sadness it establishes, this is no less relevant to the genre, but instead one that approaches the reader in a completely different way. Irish author Tracy Fahey's short is one such story. It smothers you with a cloak of depression. Our narrator's feeling of guilt and utter sadness weigh heavy upon you as the reader, throughout the story. The character's all-too-human response to the tragedy is portrayed perfectly by Fahey. The seething anger, the hopeless, the lack of sympathy and understanding, because he's male and it was just a friend. And it doesn't get any happier. In fact, it gets a whole lot bleaker.
Eating The Dream – K.A. Laity – 18 Pages
Over the years she had travelled the length and breadth of America. Not the cities. They were far too open. Too populated. Made her too visible. She preferred the quieter, darker, seedier towns. Just like the one she'd driven the rundown Honda into. There she found the perfect drinking hole. Shadowy and full of loneliness. Vacant-eyed strippers working the night in the gloom of a dingy stage. It didn't take her long to find what she was looking for. A lone figure, cradling a drink, in a shadow of his own sorrowful existence. It was from this point where she derived her pleasure. The dance between two lost souls. The deceptive cat and mouse chase. One that always led to her getting what she needed. Taking another one, to satisfy her insatiable hunger…
Good god is this a well-written tale. US author K.A. Laity unveils an atmospherically hypnotic story, with the descriptive beauty of her words casting an enchanting spell upon the reader, whilst you're coerced down dark alleyways and into dimly-lit corners by the enchanting quality of the author's prose. What unfolds in a web of sinister splendour, is a tale – near-whispered myth – of a lone demi-god like beast, stalking her prey within the loneliness of the shunned towns of America. The story may initially look to be treading in the footsteps of the likes of Poppy Z. Brite, however, Laity just as quickly strides past such notions with a much grandeur mythos of her own making, slid across the beer-stained table, with the ease of a seasoned storyteller. It's less harrowing and more disconcerting. It baths the reader in a horrific beauty. Ultimately, it's a story that settles with an uneasy splendour in the very pit of your gut.
A Clear Day In A Season Of Storms – Simon Avery – 20 Pages
After twenty-five years, their marriage had begun to stagnate. So much so, that despite the love he felt for his wife, Richard had nevertheless been disloyal to her. It was a hard time for the two of them. Not the best moment for a stranger to get washed-up on the beach behind their home. A tall, well-built man, sodden from the sea, and tired from the swim to the shore. He introduced himself to them as Dylan. He explained how he'd travelled the world in his boat, only to become shipwrecked here, just off the English coast. However, something about the man didn't sit right with Richard. Dylan's presence in their house worried him. Richard couldn't help feeling that the man was hiding something. And that he was after his wife…
Here we have another superbly written story, with a prose that is simply a pleasure to read in itself. British author Simon Avery sets in place an initially gloomy scene, with a tired and stagnant marriage slowly slipping away. However, a flood of energy is injected into the tale with the arrival of the eccentric traveller who is washed-up on the beach behind their house. A strange mix of tension, stemming from both anger and sexual conflict follows. The horror, when it arrives, doesn't come with a heavy thump. But instead it creeps into the tale, before stepping out from the proverbial shadows and into full view. It's a damn intriguing and captivating read, created through some wonderfully fleshed-out characters and magnificent wordsmanship.
The Hanging Boy – Gary McMahon – 11 Pages
Paul liked to go to the isolated railway cutting. Everyone else tended to ignore it. Even the vagrants, drunks and druggies didn't bother with the spot. So Paul could be alone there. Which was how he wanted it. But today he wasn't quite alone. He arrived to find the body of a young boy hanging from a tree. The image of the dangling corpse scared him. But that was soon brushed away when the boy started to speak. Paul couldn't understand how it was possible. Yet here he was, talking with the dangling body of a hanging boy. It made no sense. But then, neither did life…
And just like that British author Gary McMahon throws us back into a pit of chilling despair with another story of heart-wrenching coldness. It's a story heavily geared towards its setting, with just one character – that of our young narrator – who delivers the entirety of the dark tale from behind his eyes. It's a surreal story that eventually casts off the obscurity of the situation to reveal a much darker, bleaker truth in the final few sentences. Wonderfully executed, and hauntingly true to life.
Mam's Girl – J.L. George – 17 Pages
Her Mam had been getting worse at remembering her meds lately. In fact, she'd been getting increasingly more forgetful with everything. Forgetting to pick her daughter up after their shopping trip into town was a prime example. Her Mam had even called her Judy. Mistaking her own name for that of her daughter's. Her condition was clearly getting worse. But despite her Mam's problems, despite the strain and worry her condition caused her, she still had to live her own life…
Welsh author Jessica George (aka J.L. George) offers up an endearingly touching story about a caring daughter and her dedication to her mother. Of course, this isn't all heart-warming (or even heart-wrenching) devotion at the struggles of balancing her mother's needs with that of living her own life. There's something more sinister afoot. After all, the story's found a home in this here collection of contemporary horror shorts. And when the creepy revelation comes, it seeps through your skin and deep into the marrow of your bones. As touching as the story has been, the final chill is where it's at. Masterfully written and chillingly executed.
Tears Of Honey – John McNee – 22 Pages
It was Aysha who had found out about Lord Sebastian Linville, 7th Earl of Stoneburgh. She'd made contact and arranged for Carly and her to visit his grand manor house at his highland estate. The invitation was open to all those Sebastian deemed to be 'genuine seeds'. Together with a small group of experience-seekers, they would be granted access to something only Sebastian was said to possess. Something those who'd previously experienced, spoke of in hushed tones of awed longing. The girls wouldn't be disappointed. For Sebastian had unearthed a statue that wept tears of salty, sweet crimson. A mere drop on the tongue would transport those that sampled it, to a realm of exquisite carnal pleasure. Pleasure that begins and ends in pain…
What a story! Scottish author John McNee delivers a tale throbbing with energy, mystery, sexual desire and breath-taking horror. The short tale echoes much of Clive Barker's earlier, darkly erotic work, where pleasure and pain comingle in an obsessive addiction of deviancy. This is an exploration of the darker quarters of horror. The avenues where we feel compelled to watch as a nervous spectator. Voyeuristically observing the experiences of those that dare to venture into unknown territory of the pleasure and pain crossover. It's Kevin Williamson's 'The Following' (2013) meets '
The Hellbound Heart
' (1986), only with McNee's compulsion to explore dark and magnificently sensual dream-like realms reaching beyond the confines of our subconscious. A truly incredible read of creative and addictively compelling horror.
Decipher – Daniel Marc Chant – 16 Pages
Sarah didn't know why she picked up the old, neglected jigsaw from the junk shop. When she'd gotten home she'd stored it away in the wardrobe, only to get it out one night later on when Jack was away. The jigsaw was old and faded. The pieces unrecognisable. The colours bleached out into a mash of grey. The jigsaw was going to be more of a challenge than she first envisaged. But Sarah relished the challenge. There was something about the jigsaw that compelled Sarah to keep going. She'd become obsessed. The jigsaw was like a baby to her. Something she spent hours of enjoyment with. Something that needed protecting. Especially from the likes of Jack…
British author and partner-in-crime at the Sinister Horror Company, Daniel Marc Chant, delivers another story packed with bubbling mystery and dark intrigue. Almost like a reimagining of Clive Barker's lament configuration, Chant weaves a tightly executed story which gradually unravels until the triumphant conclusion stamps the horror seal of approval at the end. A wonderfully written, character-rich offering from an author who knows how to pen a story of obsessive intrigue.
Tap, Tap… - Marie O'Regan – 21 Pages
Abby and her mother had no idea who would have sent Abby two carved wooden puppets for her twenty-fifth birthday. The box they came in had no return address. The accompanying card giving no clue of who had gifted the two-foot tall puppets. However, what they both agreed upon was that there was something decidedly unwholesome about the wooden puppets. From the moment they arrived into their home, Abby and her mother had experienced strange things happening. Nothing particularly tangible. Faint noises in the dead of night and things being moved seemingly on their own. Abby's mother had been getting increasingly tired by everything. So tired, you could see it etched upon her face…
Who remembers that creepy 80's horror paperback 'Pin' (1981) by Andrew Neiderman? It was made into a great film in 1988. It was one of those stories that added that whole creepy element into a ventriloquist's doll. The atmosphere is very much replicated here in O'Regan's tense slice of terror. The tale's all about the mounting horror. The escalating tension of what's behind it all. Fair do's to O'Regan, you're probably not going to expect the grim little unveiling that she delivers in the eventual revelation. Bleak, dark, and thick with so much atmosphere.
Black Silk – Benedict J. Jones – 17 Pages
Matt and Carla Scott only found out about Black Roddy – the so-called 'hanging judge' – by chance, whilst out for dinner at a luxury hotel. The barman knew a little of the legend. The story intrigued Matt, but for Carla it had a much more personal connection. It was her grandfather who was said to be the last one to stand before the judge. To have survived, only because the judge passed away before he could pass the sentence. The story troubled Carla. So much so, that at night she dreams of hanging men on creaking gallows and things moving beneath her skin. Blood runs deep. And memories it would seem, linger forever…
British author Benedict J. Jones delivers an intriguing tale shrouded in mystery and haunting echoes from a family history. The creeping, chilling horror works quietly, as it works its way through the narrative. As the tension mounts, the story is jostled off course somewhat by a sudden shift in direction, stunting the momentum of the horror, to instead replace it with a different piece sudden terror. It ends on more of a murder mystery note than anything else. But this unexpected change isn't to the tale's detriment. Intriguing and entertaining, but if I'm honest, perhaps too much of an abrupt conclusion to end the story with.
Dragged Down – Ramsey Campbell – 24 Pages
Waterside College's Year Eight pupils had been tasked with creating their own legend about the canal that ran alongside the building. The tunnel which the canal led into was dark and dangerous. Enough to stir up plenty of stories for a class of imaginative youngsters. Although by some fluke, Basil and Angelique managed to think up the very same story. If you stand at the end of the tunnel at the stroke of midnight and call the name of the person you want to marry, you'll see them at the other end. Mz Chester thought the legend was perfect. Far better than all the dark and dismal stories the other pupils had offered up. Although the coincidence with the two of them creating the same legend didn't sit right with many of the others. Of course, Bas took the brunt of their taunting. Especially from Angelique's brother. But that wasn't what concerned Bas. It was only what Angelique thought that really bothered him…
British author Ramsey Campbell is a veritable master of creating sinister, depressing and downright bleak atmosphere's that make the reader feel uneasy from the outset. Here we have another textbook example of this. Waterside College is anything but a normal establishment of education. It feels more like a weird school for a brain-washing cult. And then of course, you have the canal and the gloomy tunnel it feeds into. Campbell paints a sketchy picture of these with a purposefully vague brush. It allows the reader to conjure up their own vision of their intricacies. To create a thick atmosphere that echoes through the strangely eerie narrative which keeps leading back to the gloomy tunnel. But it's still so vague, so dreamlike, that it's perhaps closer still to that of a haunting nightmare. And of course, being a Campbell tale, the conclusion we eventually come to is far from joyful.
Palace Of The Damned – C.L. Raven – 22 Pages
Bron, Jensen and Shawna were the Urban Legendz. Three young women on a mission to investigate (and usually debunk) urban legends. During their investigations they uploaded the footage live onto the internet for the world to see. Their latest investigation was of the Crowathorn Castle. It was supposedly one of thirteen gateways accessing the Necropolis Labyrinth, at the heart of the Realm of Nightmares. A gateway to the land of the dead, ruled by Crimthan, the God of Souls. Over the years numerous people had died or disappeared after vising one of the gateways. Just three months ago, another legend seeker had visited Crowathorn Castle. He'd not been seen since. Now these three girls, equipped with the knowledge of the legend and how to open the gateway, were attempting to explore realms where no mortal should ever tread. They would be opening a gateway to hell…
Welsh twins C.L. (Cat & Lynx) Raven offer up an odd mix of almost camp-ish hammer horror coupled with a decidedly sinister daemonic undertone. The story utilises that classic premise – a bunch of young and enthusiastic investigators attempting to debunk an age old legend. Of course, it doesn't end well for the curious trio. Not before long they're racing around the Necropolis Labyrinth with mummies and all sorts of ghoulish beasties after their young blood. I've mentioned the story being somewhat camp-ish. That may be doing it a slight disservice. The tale is enveloped in occultish practices and the exploration of nightmarish realms. Despite the sudden emergence of lumbering mummies, there's still a lingering shadow of darkness across much of the story. It's fast-paced and pretty damn furious from the get go. Although, the Raven twins do display a tendency to skip and stumble when the action gets underway. Nevertheless, it's a damn entertaining, 100% horror fan read.
Brooks Pond – Mark West – 18 Pages
From the moment she'd screamed her demand for divorce, the situation with Deb had gotten progressively worse. Andy knew if he fought back it would affect his access to their son. He couldn't let that happen. So after his weekend plans with his son were cancelled, he'd ended up at the local pub. Which is where he met Pete. They took a table with their old school friend Simon and his twenty-year-old trophy girlfriend Jody. With the last vestiges of the day's sun lingering for a couple more hours, the four of them decide to take a trip down to The Witch's Forest, where Andy and Pete say they had once caught a glimpse of the infamous witch. Now they would be returning to show Simon and Jody the secrets that brooks Forest held…
What a great story! Absolutely love this one. British author Mark West dives head first into a wonderfully character-driven tale, told from the perspective of the downbeaten Andy. Early on we get Andy's backstory, before the short tale launches into a wonderfully painted haunted-woods plot that suddenly changes the whole course of the premise, before throwing down a monumental twist that'll get you grinning from ear to ear. The plot of the story, the way the backstory to Andy is mapped out, and the shifting narrative, feels incredibly like something pulp author Guy N Smith would pen. It's the sort of story that keeps you on your toes, thinking you know where it's going, only for it to unexpectedly shift course. And the ending. What an ending! It's dark, twisted and executed to absolute perfection. A definite highlight of the anthology.
Planning Permission – Hannah Kate – 27 Pages
Sara had noticed something decidedly odd about a particular spot in their city that was up for redevelopment. Consulting with Maz and Darren only convinced her more of the matter. They realised that since at least the 1840s, the exact same patch of land has always been covered by some sort of building, even when it would make more sense to move things over a bit. The only time it had not been covered was when an old building got torn down, but then there was always a mad scramble to get something new up. Some more digging reveals this is just one of seven such sites around the city. And every single piece of paperwork, throughout the years, was done under the same name. Council office, town planner, whatever, in every case it was signed off by someone called Mr R.A. Lento. And now plans were going through for a twenty-six storey tower. On the exact same spot as the building before…
What a damn intriguing and original idea. British author Hannah Kate offers up a wonderfully inspired and intricate story about a peculiar discovery noticed in planning permission applications by a trio of young individuals with a joint interest in such things. It's an instantly intriguing idea. Why the hell would property developers keep building on the exact same blueprint as the previous buildings? As more of the story's plot is unveiled, so the strangeness continues to expand. The mystery lurking within it is excellent. It's compelling reading. An incredibly original plot with an escalating sense of uneasiness, all making for a good solid chunk of suspense-filled mystery-horror.
Shrivelled Tongues Of Dead Horses – Erik Hofstatter – 5 Pages
She was inside the walls. Within the plaster and tawny hairs. Her essence still alive. Her heartbeat slow and steady. He too was alone. From the moment she left him, his existence had been one of pain. He now beckoned her, searching for answers. Why did she leave him? Why did it have to end like this?...
Czech born author Erik Hofstatter offers ups an uneasy story of love, loss and bitter heartache, tightly woven into a blanket of callous horror. It's an oddly constructed story. In essence the whole tale is told in two halves. The first, a surreal, dreamlike sequence telling of the hurt felt from the broken relationship. The second half is that of furniture removers, chatting between themselves of what occurred in the house. Together the two halves paint a bitter picture. Although one with a surprisingly mischievous black comedy twist to end things with.
Death Wish – Margrét Helgadóttir – 14 Pages
Thirty-five was the number he set. If no one had killed him before he turned thirty-five, he promised he'd do it himself. At times, anyone would have sworn he was actively seeking death. But it wasn't like that. Nevertheless, tomorrow he turned thirty-five. Although today he'd found someone. Someone to spend the day with. Someone to push the nightmares from Screfnia out of his head. If just for one day. So he agreed to take her to Safalq. To the place where her husband had died. To a place of loss. Although for him though, it's only a matter of time…
Some stories are just so filled with gloom and mournful sorrow that it seemingly envelops every word of the tale. This is one such example. The title of the piece is more than fitting. It's an omen of what the story cradles in its palms. One man's promise to see his time brought to an end amongst an existence of troubled heartache and mourning. The story is delivered with a near-lyrical prose. It's atmospheric and ambiguous. It's almost as if you're shadowing the two troubled souls as they journey to the place of death for the woman's late husband. Of course there's more to this excursion than initially meets the eye. But it's how we get there, following these two tired travellers, where the story really succeeds. You feel a part of their pain. A piece of the journey itself. And when you take that last step, and the story reaches the edge of the proverbial cliff, that connection feels far stronger than the sum of the pages that got you there. Mesmerising. Beautiful. Hauntingly, heart-achingly bleak.
Size Isn't Everything – James Everington – 15 Pages
Mark had been Beagan's childhood friend. Now he was his employer and landlord. Sometimes it was difficult for Beagan. He didn't like to think too much about how his life had become one always in Mark's shadow. That was just how it was. Something he had to accept. Mark would drop Beagan a text whenever he needed him to go out to one of his properties and fix something, or sort out some issue or other. Today was no different. The tenants at one of Mark's properties had supposedly done a midnight flit, and now Beagan had been dispatched to record any damage they'd done to the flat. Although, upon arriving Beagan realised this wasn't going to be a normal property check. Pinned to the flat door was a note addressed to the owners. "We didn't do this, it came through the wall, we couldn't stop it. We didn't do this". And what Beagan discovered inside that small, pokey flat, was something he'd never seen before. Something mesmerising. Something life changing…
British author James Everington has a way with words. Reading this short, strange cosmic horror tale brings back echoes of Lovecraft's uniquely creative skill at describing a premise, a scenario or setting, which feels like it should be beyond the reach of mere words. The way Everington paints the picture of what his character, Beagan, experiences within Flat C of 18 Elm Street is quite frankly breath-taking. It's the sort of writing that makes your mind boggle with the sheer open expanse of the imaginative field the author has employed. The normal constraints of our reality are left at the door. Instead, we're allowed, in fact actively encouraged, to explore the unrestrained scope of a place outside of our normal dimensions. As I said, it's breath-taking stuff. And it's executed magnificently.
Pain Has A Voice – Stephen Bacon – 15 Pages
Liam liked to visit the allotment and its shed. He felt like it was the one remaining thing connecting him with his father. Other nine-year-olds would be out playing on their bikes, exploring the woodlands or getting up to mischief. Not Liam. He liked the quiet of the allotment shed. Reading the paperbacks his father had left there. Being close to his memory. Finding the middle-aged man hanging from a tree only man the allotment more of a draw. The discovery was his. His man to look after. His to cherish. Having the man there took his mind off the misery that his step-dad brought to him. Took away the pain. Gave a voice to his pain…
Holy shit are these stories getting dark. British horror author Stephen Bacon offers up a story so drenched in hurt, sorrow and suffering, that it feels suffocating. There's nothing more heart-breaking than a child dealing with the crippling loss of a parent. Dealing with all that anguish and pain. Couple that with the all-too-real situation of an abusive adult inserted into the equation, and you've got a story that'll rip at your heartstrings until you're left cold, hurt and fucking raging. Bacon utilises these raw emotions to his advantage, wrapping the tale up in a tightly-controlled bundle of compassionate empathies and growing concern. Of course, this being a horror anthology, the tale inevitably starts to creep into darker territories. All through this, Bacon keeps his eye firmly on maintaining those base sympathies. It's intensely moving whilst delivering a brutally dark undertone that leaves you slack-jawed and shivering as the last page is turned. An exceptional read.
Swimming Out To Sea – Penny Jones – 13 Pages
Her parents had brought them to the beach on the hottest day of the year. She'd wanted to spend the day at the cinema with Joel instead. But here she was, burning under the midday sun. The heat was stifling. So, despite her mother's objections, she decided to go for a swim in the sea. Not just to cool herself down, but to get away from her selfish parents. Although when the water started lapping around her waist, the bitter chill sent shivers through her body. Nevertheless she waded deeper, until her parents and their obnoxious red umbrella were just a faint dot along the shoreline. Which is when she realised she'd gone too far. The tide had carried her out. Her panic was quick to surface. The fear all-consuming. She'd made a mistake. She'd gone too far…
I recall with a nightmarish clarity, being dragged out by the tide whilst on holiday as a young boy. The sudden overwhelming panic that grips you as you realise the safety of the shoreline and your family, are so far away. And despite your best efforts, you're getting pulled further away still. British author Penny Jones has tapped into this crippling fear, and portrayed it with harrowing clarity. Reading the short story brought back every molecule of terror that beat against my pounding young heart. The sudden realisation that floods over you is displayed perfectly in the story. The alarm, the gut-wrenching dread, the desperate determination to get back. Of course the story doesn't end there. It could, and it would have still delivered a heart-thumping tale of gripping terror. But this author's got more horror to come. Stuff of true nightmares. And that's exactly what the short story reads like – an honest-to-god nightmare.
Reanimation Channel – Mark Cassell – 24 Pages
Scott had come home from a long day at work to find he'd had a package delivered next door. However, when he goes to collect his parcel, Scott finds his neighbour's front door open and the interior of the house trashed. Investigating, Scott finds his neighbour – Adrian – lying dead on the floor, bloody stumps where his legs should have been. On his computer screen, the dark-web website 'Reanimation Channel' still visible. Being a fraud investigator, Scott knew all about the infamous channel. Reportedly a place where subscribers could bid for the chance to control what was essentially a reanimated animal. The user could then watch a live feed from an action camera strapped to the thing's head whilst controlling the beast's every move. The live feed on Adrian's computer showed the reanimated animal was in an area Scott knew well. Scott's heart skipped a beat when he realised, this monster constructed of technology and corpses, was terrifyingly close, and getting closer by the second…
Bring it on! For his contribution to the anthology British author Mark Cassell offers up a tale pulsing with raw tension and twisted-as-holy-hell horror. There's no hanging around in this adrenaline-pumping descent into messed-up sci-fi horror. Akin to Richard Stanley's cult film 'Hardware' (1990), the story pumps the fast and furious action into its narrative like there's no tomorrow, exploring the disturbing possibilities of the dark web, with the corruption of biotechnology and the horrific consequences it could cause. But it's the pounding, unrelenting drive of the story that ultimately makes it such an intense and captivating read. There's no putting the book down once you've started reading the tale. It cranks up the blood-greased gears at an alarming rate, hurtling us through a chaotic storm of chaos and monstrous carnage. Cassell doesn't hold back one bit in upping the ante at every opportunity. Creating a story that reaches catastrophic proportions far quicker than you would have thought possible. This my friends is how you deliver grisly sci-fi horror.
Craft Ail – Duncan P. Bradshaw – 23 Pages
The sixteen of them had all received exclusive invites to the newest bar in town. Upon arriving they were each given a welcome pint of ale and a manila envelope. Inside the envelope, a slip of paper randomly assigned the guests to one of four pub quiz teams. As they quaffed their drinks, they were passed a second letter. The letter informed the guests they had to kill everyone else, lest an important person in their lives would be murdered. The final sentence made the situation clear: only one would make it out alive. Within minutes the inside of the pub was turned into something akin to an abattoir. The guests violently attacking each other in a vicious battle for survival. Some sick bastards had devised some elaborate pub-based Battle Royale. The guests had no choice but to play along. Survival was now the aim of the game…
How completely and utterly Bradshaw. Gore, over-the-top carnage, a wacky plot, and maniacal dialogue drenched in pitch black comedy. Think 'Shaun Of The Dead' (2004) meets 'Battle Royale' (2000). As you'd expect from a Bradshaw offering, there's a fuck-tonne of horrific blood-splattered mayhem thrown in, with a lunatics pacing powering the story along at an out-of-control rate. There's just so much crammed into this twenty-tree page tale. A serial killing madman dubbed 'The Rag and Bone Man' by the media, a Leatherface-esque accomplice, a vengeance-driven survivor, and a bunch of hacking and stabbing extras thrown in as fodder. Yeah, this ones got one solid recipe for some proper Bradshaw style horror madness, akin to his '
Class Three
' (2014) days. There's really so much to like about this story. There's even a cheeky nod to 'Shaun Of The Dead' (2004) and Bradshaw's earlier novel '
Hexagram
' (2016). It's damn entertaining. A veritable avalanche of blood-splattered horror madness.
Dr Zwigli's Last Paper – Elizabeth Davis – 15 Pages
Dr Madison Zwigli's last written paper caused a stir of scepticism within the academic circles. The late doctor had evidently been struggling with inner turmoil. The erratic nature of her words, her punctuation, her chaotic train of thought, all a firm indicator of the troubles the doctor was suffering from. Her paper began describing the sequence of events which would later culminate in a mass epidemic. It started with kitchen fires, blamed on flu-induced carelessness. The fires continued to spread. Then one tragically burned down a student house, bringing out reporters, and highlighting the situation within the public eye. And always the same words emblazoned across the sides of the charred remains of the buildings: "fever evolve, yes". The words connecting the seemingly sporadic fires. Their presence an omen. A sign. But could the words themselves be responsible? Could they be affecting our minds? The words convincing our brains to create flames? In such thoughts, very possibly, lunacy lies…
Creativity often takes the strangest shapes. Its inspiration can evolve from some of the oddest, most unlikely of ideas. US author Elizabeth Davis offers us a distinct example of just this. A story created through the patchwork of erratic writings from a deeply troubled academic. Laced with biblical quotes as well as those from scientific journals, the text offers a window into a strangely troubling idea that builds up a snowballing momentum as the story progresses. It's not a linear trail of breadcrumbs that we follow. Instead, we work our way through a patchwork of bite-sized theoretical fragments, until something resembling an intangible threat begins to emerge. It's certainly a clever and captivating read. One that sends the imagination spiralling off into outlandish directions. And for that alone, it must surely be hailed a magnificent success. Either that, or utter lunacy.
Laurel – Terry Grimwood – 24 Pages
Hut 33 was luxury compared with what others had to deal with. Oflag VIIIg was an officer camp, yet the Royal Marine Commandos kept in Hut 33 were a mix of commissioned and non-commissioned. It meant the men had been sorted and separated. Not a good sign at all. Lieutenant David Robertson had been welcomed into Hut 33 by the hut's senior officer – Major Hunt. But with news that a detachment of the SS were on their way, things were about to go from bad, to a hell of a lot worse. An order had come in from the Fuhrer himself, ordering that all commandos caught behind German lines be shot. It was time to get back into the tunnels. Time to recommence the digging and progress the decoy tunnel. If they were lucky, some of them might be able to make it west. But tunnelling in such a confined and dangerous space was far from easy. And in the dark, strange whispers could be heard, begging to be taken home…
You can't go far wrong with a well written WWII set horror. There's so much inherent horror impregnated in the womb of the premise, to get the story delving into the darkness from the outset. British author Terry Grimwood completely capitalises on this, launching his tale into a claustrophobic, hostile and gut-wrenchingly desperate place, with a cast of characters that tell their tale with a terrifying honesty about it. I've used the word claustrophobic. If anything, this word should be underlined, set in bold and pretty much repeated a thousand fold within this review. You see, that one word sums up so much of the tale. The oppression that screams from the pages. The terrifying confinement that clings to every sentence. The unshakable feeling of dread that permeates every word. Grimwood is an author who's able to capture so much atmosphere and guttural human emotion within his descriptions. His writing is tight, yet opens doors to allow your mind to explore the environment we're put within. This story is a perfect example of such. It's harrowing, disturbing, and buried deep in the very essence of horror. A remarkable read.
Tide Will Tell – V.H. Lelie – 11 Pages
Marking the city limits, a slim channel of seawater separates the city from the mainland. For a few hours each day the seawater retreats, revealing the sludge and muck at the bottom. Here one can observe the litany of discarded items, thrown to their final grave in the murky depths of the creek. Ellis had been coming to the periphery of the city, to where the sea channelled into the creek for some time now. Since Amy and he had been trying for a kid, the creek seemed the ideal place to go for a jog. He tried to steer clear of the drunks and drug users. But every now and again something would catch his eye. Like the hessian sack floating along the water's surface. Did he imagine it, or did the sack move a little? Could there be something inside? Something alive? Something that could become a part of their family?...
A good setting can often make a story. It can set your imagination off on an exploration into a place where horror can thrive. A situation or location, where terrifying ideas can spawn and breed as the writer sees fit. That's what we have here with Lelie's wonderfully emotive story of nagging curiosity and desperate yearning, within a setting bursting with sinister potential. There's not actually all that much meat on the bones of the story. Just a relatively simple premise that edges along with suggestions and ponderings. But the atmosphere and emotional essence of the tale is where it stands the tallest. It gets you thinking. Lets the imagination ponder and probe at the possibilities. And of course, these thoughts nearly always end up in some pretty dark territory.
The Last Horror Story – J.R. Park – 29 Pages
Ciaran Eastwood was struggling. His inspiration had dried up, and the deadline for his short story was looming large. In his need to extract something from himself, he'd started writing a story with himself in it. A horror writer who lets a tired old man into his house, after the poor lost soul gets confused, ending up at Ciaran's front door. The moment the troubled pensioner is in his house, the atmosphere changes. There's something not quite right. Something permeating the very fabric of the old building. Resonating in the walls, in the plaster, in the very essence of what was once an aging care home. It had started to infiltrate Ciaran's life. Corrupt and distort it. His wife saw him as the problem. Him as the influence. But Ciaran knew it was something other. Not him. Not his doing. Although here he still was, struggling with where to go next. Struggling with his story…
If you thought that synopsis was more than a tad confusing, just you wait until you feast on what British author J.R. Park has dealt out. Fellow reviewer George Anderson once referred to Park as being akin to a mad scientist concocting diabolical stories of horror in a lunatic's laboratory. It's a very valid observation of the maniacal creativity of the author. His work very rarely follows the normal rules of storytelling. Their construction is just as inventive as the premise within the stories themselves. Here we have another prime example. It's a story where Park more than breaks the fourth wall. In fact he wholeheartedly destroys the damn thing, foundations and all. The story bounces back-and-forth between 'faux-reality' and the story the character of Ciaran is writing. A story-within-a-story-within-a-story if you will. However, with so many overlapping aspects between what Ciaran is writing and his own life, the edges begin to blur. This of course is all intentionally done by our resident mad scientist. The blending, blurring and infiltration between the two unrealities is in fact the very backbone of this strangely disorientating story. It's mindboggling. But ultimately it's fucking awesome horror. The Last Horror Story indeed. But even though the words have come to an end, the horror continues.
Epilogue – Tracy Fahey & J.R. Park – 6 Pages
Lora Ridsdale was restless. Her stomach had been in knots ever since she'd woken. Where was the man from Bed 1? There was something about him that caught Lora's attention. Something that unnerved her. When she'd asked one of the nurses about the man, pulling back the bedsheets revealed something that sent Lora's mind spinning into a hellish vortex. Scrawled in rusty red across the white hospital sheet were the words "Pasher Tagoth Imra". Words that dislodged something inside Lora; flashes of her old life. Words that took her out of the hospital and back into the heart of all her nightmares…
Forming the final bookend to the anthology, we have the second half of Park and Fahey's 'Prologue & Epilogue' story. It drops us right back to where the prologue left off, only from a different perspective – that of the patient in Bed 3. Of course, the weird otherworldly horror is already largely chiselled out from the Prologue. As such, instead of leading us down the same path, the story's authors send us spiralling down a completely different abyss in which dark nightmares of Lovecraftian proportions reside. And at the end, in those final few sentences, the authors wrap the Black Room Manuscript books up perfectly. Incredibly fitting. Possibly a near-perfect ending to an incredible series of anthologies.
Afterword – Jim Mcleod – 4 Pages
It seems only fitting that the man who opened up the series of anthologies with his introduction back in 2015 should close off the series with a few final words, forming the final afterword. Ginger Nuts Of Horror's Jim Mcleod ends the series with a few poignant thoughts on what the Black Room Manuscript collections have bravely offered up over the last few years, homing in on the diversity that the books have pushed for and the fundamental importance of such diversification. Mcleod is honest and open with his opinions on the matter, championing the fresh perspective the inclusion of writers from different backgrounds can bring. The afterword does the anthology and the very ethos behind the series proud. The anthologies were always about showcasing the work of new and boldly original horror authors. Allowing a multitude of different and uniquely varied voices in our chosen genre to collectively embrace their passion of horror. Mcleod's afterword is all about this. And as the big man always does, he delivers his thoughts with passion and a true love for the genre.
The anthology runs for a total of 459 pages.

© DLS Reviews
Other 'The Black Room Manuscript' volumes: