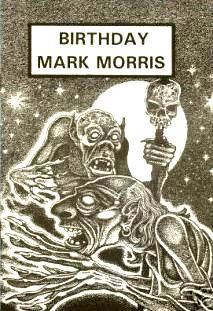 First published back in October of 1992, British author Mark Morris' short story entitled 'Birthday' was released by The British Fantasy Society as a limited run chapbook. The publication was the eighteenth in a series of BFS booklets to be released. The text for the story is quite literally crammed onto each one of its fifteen pages, presented with illustrative cover artwork by Jim Pitts. This was the first time the story appeared in any publication.

DLS Synopsis:
It's the morning of Mark Price's tenth birthday. Mark is a football mad young boy who is given a pair of football boots and a brand new football for his birthday. Mark soon goes off to meet his friend Matthew at the local park, where they plan to play a little football together.

When Mark arrives at the park, he discovers a strange glass wardrobe-like-structure that is sitting in the middle of the grass area. After studying the bizarre object for a while, he notices a small coin sitting at the back of the strange wardrobe. Once Mark enters the strange glass structure, the door swings shut and he finds himself trapped within the glass enclosure.

Soon enough his friend Matthew arrives at the park, but to Mark's horror, the glass prison appears to be invisible to everyone else's eyes, leaving him trapped within the box without any hope of help. What Mark doesn't yet know is that a much more horrifying fate awaits him...

DLS Review:
'Birthday' is an intriguing and slightly surreal short with an eerie undertone that builds throughout the tale. Morris has managed to create a mountain of suspense within these few pages, which spirals towards an unforeseen and creepy conclusion.

The story is gripping from the start with a good pace throughout. The simple plot keeps a clever area of mystifying confusion around it until the last page is finished. A highly imaginative read that is recommended for all fans of horror fiction.

The short later appeared in Mark Morris's collection of short stories entitled 'Close To The Bone' (1995), which featured another ten similarly creepy tales.
The short runs for a total of 15 pages.


© DLS Reviews