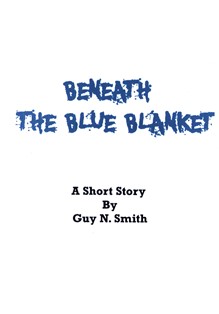 Back in September of 2015, prolific pulp horror author Guy N Smith handed out an exclusive chapbook entitled 'Beneath The Blue Blanket' to all of those who attended that year's annual fan convention. Each one of these short chapbooks was hand signed by Smith on the inside of the cover page.
DLS Synopsis:
Jim had finally had enough of their Persian cat Henry. The bloody thing had clambered onto their bed - and more specifically, onto the blue blanket he had draped over his side of the bed - for the last time.

He'd do away with the cat tomorrow. He promised Else as much. And he wouldn't be burying the pesky thing afterwards, that's for sure. It'll go straight into the wheelie bin. And that would be that.

But Else couldn't let that happen. She knew her no-good husband was serious about killing Henry. He was mean enough to do such a thing. But what could she do about it? With her arthritis leaving her pretty much bedridden, there was little she could do to prevent her vile husband from making good his threat.

Henry's life was well and truly hanging by a thread…
DLS Review:
Short, sharp and snappy – that's pretty much all I need to say about this short little offering from the Godfather of Pulp. But of course I'm not going to leave the review at just that. It's time to get the scalpels out and give the chapbook a thorough dissection.
The story jumps straight in with a down-trodden atmosphere, with the miserable-as-sin antagonist in the plot – Jim – ranting away from the outset about how he's going to kill his aging wife's beloved cat. In for a penny, Smith pushes the dislikeable qualities of Jim even further, painting him as a foul, stinking unwashed slob, who lies around all day long doing next to nothing other than complaining.
Of course, Smith's not going to kill off poor little Henry then call it a day. Instead we're treated to a sudden, dramatic twist in the tale, in which in the veritable blink of an eye, plunges the tale into some good old fashioned pulpy horror territory.
As you'd probably expect, the story's completely over-the-top with the way the chaos and comeuppance snowballs at a mile-a-minute. But that's half the fun of it. It's just textbook Guy N Smith crammed into a minimal pages count. One-hundred-percent pure pulpish entertainment.
The short runs for a total of 7 pages.

© DLS Reviews

A B C D E F G H I J K L M N O P Q R S T U V W XYZ VARIOUS NON-FICTION