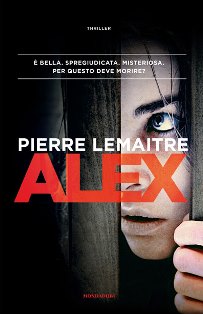 First published back in October of 2011, French author Pierre Lemaître's fourth novel 'Alex' formed the author's second novel to incorporate the principal character of Commandant Camille Verhoeven who had previously appeared in the novel 'Craftmanship' (2006). 'Alex' was later translated from French into English by Frank Wynne and subsequently published in the UK for the first time in February of 2013.
DLS Synopsis:
Alex Prévost has spent her life being crippled by self-doubt. Throughout her childhood and early teens it was fair to say that she was far from pretty. Not quite ugly, but certainly at the lower end of bland. But that all changed when she finally blossomed into a young woman. Suddenly she was being noticed. She was no longer the easily forgettable, painfully shy and sexless girl that she had been. Now she was a woman. And she was unquestionably pretty.

However, at the age of thirty, her love-life had remained absent of anything that would rescue her from her solemnness. She lived alone, had little in the way of friends, and worked as a temporary agency nurse – still devoid of anything that could be called a solid platform for her life to establish itself from. And so, because of these factors, on an evening very much like any other, they found Alex deciding to walk home alone after dining by herself at a restaurant she had recently become fond of.

And it's as she walked down the rue Falguiere within Paris' metropolitan side-streets, that the pretty thirty-year-old is brutally attacked by an unknown man and bundled into the back of a white van. The only evidence that the assault had taken place being a smattering of the victims vomit left on the roadside and a vague and somewhat unreliable witness who viewed the assault and abduction from afar.

After the vicious kidnapping is reported to the police, Divisionnaire Le Guen decides to assign the case to Commandant Camille Verhoeven of the Brigade Criminelle (the Parisian murder squad). However, Verhoeven has his own reservations about taking on the case. After his wife, Irène, was herself kidnapped and killed some four years ago, Verhoeven has since steered clear of any such case. And Le Guen knows it. And that's exactly the reason why he's assigned the case over to him. It's time Verhoeven finally faced his past.

Together with thirty-four-year-old Louis Mariani who Verhoeven has purposefully avoided since his wife's death, and his tight-fisted colleague Armand, the detectives have little to no clues to go on as they set about trying to track down the missing young woman and her abductor. Forensics are quickly pulled into the scene, but again the conclusions they offer up are painfully threadbare.

Meanwhile, Alex Prévost has been taken to an abandoned and bricked up warehouse somewhere in the suburbs of Paris, where she has been stripped naked, beaten and forced to remain in a small wooden cage that's impossible to stand or sit in. A torturously designed cage that was once known as a 'fillette'.

Time is running out for Alex as she is forced to injure the horrific pain of being cramped up in this purpose-built torture cage. Winched two metres in the air and left suspended in the deserted warehouse; her abductor continues to antagonise the situation, feeding her with dog food and unleashing a pack of hungry rats onto the cage.

Verhoeven and his detectives must look into every angle, pull on every resource, and lean on everyone who might be able to offer them a lead, in order to get to Alex before her time runs out. But there's much more to this than first meets the eye. And as they're soon to learn, there's much more to Alex Prévost than being a simple victim. Justice is never black and white…
DLS Review:
Okay, so 'Alex' isn't exactly a light read. Pierre Lemaître knows how to get the reader in the gut and keep on pounding away, with adrenaline-rushing-intensity and an ability to absolutely floor the reader with incredible twist and turns that smash the storyline about like a wrecked car. And let's be honest, Lemaître isn't going to pull any punches when getting to the real meat of the horror. There's a great deal of Brett Easton Ellis, Jack Ketchum, Simon Wood and Thomas Harris clawing away at the hard-hitting gruesomeness of the tale. Indeed, expect some pretty strong scenes of violence and torture along with details of some quite nauseating mutilation to mention just a few points. Oh yes…the novel can get pretty messed up at times. So be warned oh ye casual crime thriller readers.
So, outside of the no-holds-barred intensity of the brutal horror, what else has the book got to offer? Well, for a start Lemaître can write a consistently energetic tale that maintains a compelling momentum throughout its entire length. On top of that you've got some darn good characterisation – although it's perhaps a tad too overdone in the unique mannerisms at times.
Indeed from Commandant Camille Verhoeven, who's of course a 4ft 11" tall detective within the French version of the Murder Squad, there's also Louis Mariani who's super-intelligent and absolutely rolling in cash, and finally Detective Armand who is so tight with his cash that he never (and I mean NEVER) pays for anything. The characters are all a bit over-the-top. But it doesn't really detract from the storyline. If anything, their exaggerated personalities just make for a at times much needed light-hearted element to an otherwise grim and gritty crime thriller.
Apart from the graphic scenes of brain-jarring brutality that the novel unveils on a number of occasions, its other utterly compelling strength is with the completely unpredictable and (dare I say ingenious) twists and turns that Lemaître throws in with the smug skill of an undoubtedly cunning writer. Split into three distinct parts, the novel doesn't take just one singular pathway from start to end, but instead crashes off the walls of each section, bouncing back and forth in a whirlwind of colliding messages. The novel's tagline 'Justice is never black and white' has never been so apt. Lemaître can weave one heck of a latticework of conflicting emotions – with the reader stuck in the middle fighting with their own feelings and preconceived judgements that are thrown back and forth time and time again.
It's fair to say that Lemaître keeps the reader on their toes throughout. It's one hell of a journey that you're taken on. And the monumental twists and character-changing turns just keep on coming until the final page is turned. And then you're just left gasping with the intricate completeness of it all.
The novel runs for a total of 354 pages.

© DLS Reviews