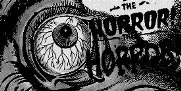 Original Writer:

Barker, Clive
Ennis, Garth (et al)

Herbert, James
McCluskey, Dave

McCulloch, James

Niles, Steve
Shaw, Matt
Smith, Guy N
Snyder, Scott

Tobin, Paul

Warner, Matt & Ballard, AJ
Webster, Alex (Cannibal Corpse)

Graphic Novels, or comics if you will, are a funny thing. I'm certainly no expert on them. However, DLS Reviews will attempt to review a number of these illustrated tales; most notably for those which have a connection to a particular author. As such, the below list will undoubtedly grow over time, as more and more graphic novels are read and reviewed. So for those who enjoy to see tales illustrated in all their gory glory – you may want to keep an eye on this here page..

Graphic Novel:

Tapping The Vein: Book One (1989) 7/10
Tapping The Vein: Book Two (1989) 7.5/10
Hellraiser (1989 - 1993) [separate section]
Nightbreed (1990 - 1993) [separate section]

Tapping The Vein: Book Three (1990) 7/10
Tapping The Vein: Book Four (1990) 7/10
The Yattering And Jack (1991) 8.5/10

Son Of Celluloid (1991) 9/10

Primal: From The Cradle To The Grave (1992) 6.5/10

Primal: Part I (1992) 5/10

Primal: Part II (1992) 1.5/10

Tapping The Vein: Book Five (1992) 7.5/10

Dread (1992) 7.5/10

Revelations (1992 / 1993) 7/10

Rawhead Rex (1993) 7/10

The Life Of Death (1993) 8/10

Age Of Desire (2009) 9/10

Seduth (2009) 7/10
Crossed (2010 - present) [separate section]
The City (1994) 9/10

Short Sharp Shocks (2016) 6.5/10
Little Girl Black (2016) 8/10
28 Days Later: The Aftermath (2007) 7/10

Transfusion (2013) 6.5/10
Sick B*stards [Issue 1] (2016) 9/10
Adventure Strip Weekly (1974) 6/10

Crabs' Fury (1992) 6.5/10
American Vampire: Volume 1 (2010) 7/10
Colder: Volume 1 (2013) 7/10
Slaughterhouse Farm: Issue 1 (2013) 6.5/10

Slaughterhouse Farm: Issue 2 (2014) 3/10
Unleashing The Bloodthirsty (2003) 8/10
Evisceration Plague (2009) 8.5/10


A B C D E F G H I J K L M N O P Q R S T U V W XYZ VARIOUS NON-FICTION